June 7, 2022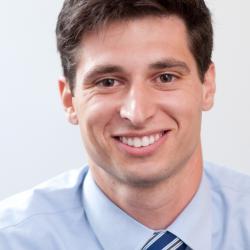 Finlayson will soon begin a medical residency in Pediatrics and Clinical Genetics at Seattle Children's Hospital and the University of Washington
Megan Lewis | IMES
Sam Finlayson's path to becoming a medical professional grew out of a series of health struggles—his own, as well as that of a beloved family member. 
"My interest in becoming a physician-scientist has its roots in two extremely complementary medical sagas: my own, and that of my older sister, Kate," Finlayson, a 2022 HST MD graduate, explains.
Kate, four years his senior, was born prematurely and suffered a brain hemorrhage that resulted in hydrocephalus. As treatment, she had a shunt implanted in her brain to divert away the excess cerebrospinal fluid. Despite this, she was able to overcome developmental and motor delays and thrive in school and athletics. But when Kate was in middle school, the shunt failed, and she required another brain surgery that resulted in complications, leading to a 16 year-period of more than 100 additional surgeries and years of hospitalizations. Tragically, she passed away in 2010 at the age of 26.
Finlayson had his own medical challenges, when, as a newborn, he caught meningitis, which evolved into encephalitis. This cascaded into subsequent health struggles, including years of seizures, incidents of strokes and the need for oxygen support. At one point, he suffered a surgical error requiring intravenous feeding, resulting in developmental delays. At around the time that he turned six, Finlayson began to recover. His own health journey then took a different path than that of his sister, and he has been able to live a healthy life since.   
"Taken together, my sister and I, and our whole family, have really experienced the very best and the very worst of medicine," he says. "Each of our stories demonstrate the miraculous efficacy and yet the woeful inadequacy of our current technology and understanding."
Finlayson therefore had two main goals when it came to pursuing a career in medicine: first, to be an engineer who could help advance medical capabilities through lifesaving technology; and, second, to be a physician who could embrace uncertainty while working on behalf of his patients and their families.
These goals made him an ideal fit for the HST program.
"You couldn't engineer a better program than HST, which aspires to train engineers and scientists to be fully grounded and informed by the biomedical challenges that are facing real patients, while simultaneously training physicians that are deeply grounded in a principled understanding of biology and engineering," Finlayson says. "My advisors have been incredibly focused on helping me identify and achieve my own goals…My classmates were fantastic. Being surrounded by like-minded, driven people who are also really kind, positive, and collaborative was wonderful at every stage of my training."
A favorite memory of Finlayson's was when his first-year MD class banded together to conduct a microbiome study using themselves as research subjects. Classmates switched to an all-liquid diet which ensured that they all had an identical nutrient intake. The study tested the effects of specific macronutrients and provided different microbiome analyses. Finlayson's class was able to recruit more participants and, working with HST faculty, even publish the study. They humorously termed themselves the HST Microbiome Consortium and are listed as second author on the published manuscript.
Finlayson will soon begin a medical residency in Pediatrics and Clinical Genetics at Seattle Children's Hospital and the University of Washington. In addition to his MD in HST, he completed his PhD under the direction of Isaac Kohane (the chair of the Department of Biomedical Informatics, Harvard Medical School, or DBMI), and Peter Szolovits, professor of computer science and engineering, MIT, an HST faculty member, and a member of the affiliate faculty at the MIT Institute of Medical Engineering and Science (IMES)—with research focused in biomedical applications of machine learning. IMES is HST's home at MIT.
In 2008, Finlayson and his brother created the non-profit organization Team Hydro, which raises awareness and funds for the hydrocephalus community in honor of their sister, Kate. Team Hydro involves fundraising through open-water swims and has raised over to one million dollars to date.