May 18, 2023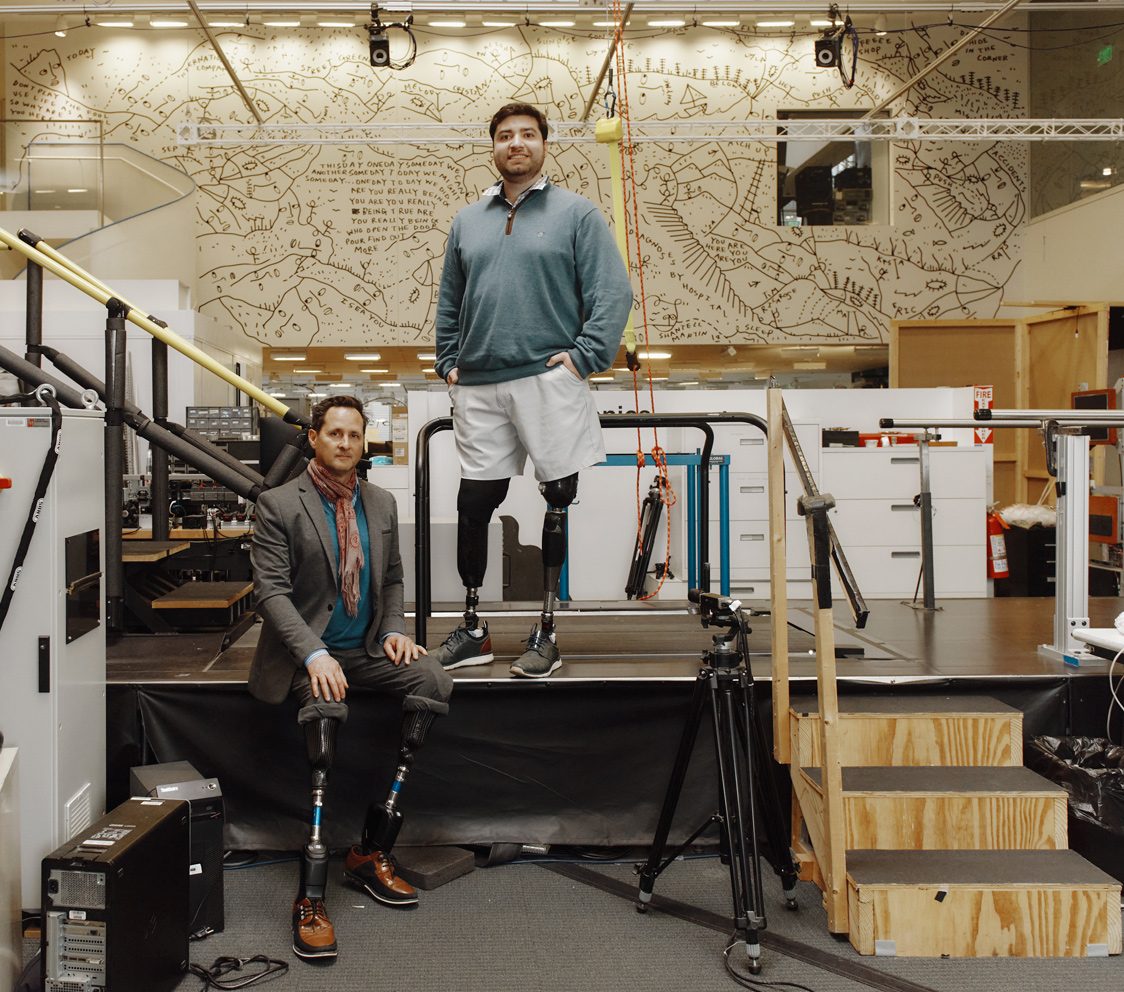 Professor of media arts and sciences Hugh Herr SM '93 and HST student Christopher Shallal are working on next-generation biomimetic limbs
Leda Zimmerman | Spectrum
In early December 2022, a middle-aged woman from California arrived at Boston's Brigham and Women's Hospital for the amputation of her right leg below the knee following an accident. This was no ordinary procedure. At the end of her remaining leg, surgeons attached a titanium fixture through which they threaded eight thin, electrically conductive wires. These flexible leads, implanted on her leg muscles, would, in the coming months, connect to a robotic, battery-powered prosthetic ankle and foot.
The goal of this unprecedented surgery, driven by MIT researchers from the K. Lisa Yang Center for Bionics at MIT, was the restoration of near-natural function to the patient, enabling her to sense and control the position and motion of her ankle and foot—even with her eyes closed.
"The brain knows exactly how to control the limb, and it doesn't matter whether it is flesh and bone or made of titanium, silicon, and carbon composite," says Hugh Herr SM '93, professor of media arts and sciences, head of the MIT Media Lab's Biomechatronics Group, codirector of the Yang Center, and an associate member of MIT's McGovern Institute for Brain Research.
For Herr, in attendance during that long day, the surgery represented a critical milestone in a decades-long mission to develop technologies returning mobility to people disabled by disease or physical trauma. His research combines a dizzying range of disciplines—electrical, mechanical, tissue, and biomedical engineering, as well as neuroscience and robotics—and has yielded pathbreaking results. Herr's more than 100 patents include a computer-controlled knee and powered ankle-foot prosthesis and have enabled thousands of people around the world to live more on their own terms, including Herr.
Surmounting catastrophe
For much of Herr's life, "go" meant "up."
"Starting when I was eight, I developed an extraordinary passion, an absolute obsession, for climbing; it's all I thought about in life," says Herr. He aspired "to be the best climber in the world," a goal he nearly achieved in his teenage years, enthralled by the "purity" of ascending mountains ropeless and solo in record times, by "a vertical dance, a balance between physicality and mind control."
At 17, Herr became disoriented while climbing New Hampshire's Mt. Washington during a blizzard. Days in the cold permanently damaged his legs, which had to be amputated below his knees. His rescue cost another man's life, and Herr was despondent, disappointed in himself, and fearful for his future.
Then, following months of rehabilitation, he felt compelled to test himself. His first weekend home, when he couldn't walk without canes and crutches, he headed back to the mountains. "I hobbled to the base of this vertical cliff and started ascending," he recalls. "It brought me joy to realize that I was still me, the same person."
But he also recognized that as a person with amputated limbs, he faced severe disadvantages. "Society doesn't look kindly on people with unusual bodies; we are viewed as crippled and weak, and that did not sit well with me." Unable to tolerate both the new physical and social constraints on his life, Herr determined to view his disability not as a loss but as an opportunity. "I think the rage was the catapult that led me to do something that was without precedent," he says.
Lifelike limb
On hand in the surgical theater in December was a member of Herr's Biomechatronics Group for whom the bionic limb procedure also held special resonance. Christopher Shallal, a second-year Harvard-MIT Program in Health Sciences and Technology (HST) graduate student, who received bilateral lower limb amputations at birth, worked alongside surgeon Matthew Carty testing the electric leads before implantation in the patient. Shallal found this, his first direct involvement with a reconstruction surgery, deeply fulfilling.
"Ever since I was a kid, I've wanted to do medicine plus engineering," says Shallal, an HST Medical Engineering and Medical Physics (MEMP) PhD candidate. "I'm really excited to work on this bionic limb reconstruction, which will probably be one of the most advanced systems yet in terms of neural interfacing and control, with a far greater range of motion possible."
Like other Herr lab designs, the new prosthesis features onboard, battery-powered propulsion, microprocessors, and tunable actuators. But this next-generation, biomimetic limb represents a major leap forward, replacing electrodes sited on a patient's skin, subject to sweat and other environmental threats, with implanted sensors that can relay signals between the external prosthesis and muscles in the remaining limb.
This system takes advantage of a breakthrough technique invented several years ago by the Herr lab called CMI (for cutaneous mechanoneural interface), which constructs muscle-skin-nerve bundles at the amputation site. Muscle actuators controlled by computers on board the external prosthesis apply forces on skin cells implanted within the amputated residuum when a person with amputation touches an object with their prosthesis.
With CMI and electric leads connecting the prosthesis to these muscle actuators within the residual limb, the researchers hypothesize that a person with an amputation will be able to "feel" their prosthetic leg step onto the ground. This sensory capability is the holy grail for persons with major limb loss. After recovery from her surgery, the woman from California will be wearing Herr's latest state-of-the-art prosthetic system in the lab.
'Tinkering' with the body
Not all artificial limbs emulate those that humans are born with. "You can make them however you want, swapping them in and out depending on what you want to do, and they can take you anywhere," Herr says. Committed to extreme climbing even after his accident, Herr came up with special limbs that became a commercial hit early in his career. His designs made it possible for someone with amputated legs to run and dance.
But he also knew the day-to-day discomfort of navigating on flatter earth with most prostheses. He won his first patent during his senior year of college for a fluid-controlled socket attachment designed to reduce the pain of walking. Growing up in a Mennonite family skilled in handcrafting things they needed, and in a larger community that was disdainful of technology, Herr says he had "difficulty trusting machines." Yet by the time he began his master's program at MIT, intent on liberating persons with limb amputation to live more fully in the world, he had embraced the tools of science and engineering as the means to this end.
For Shallal, Herr was an early icon, and his inventions and climbing exploits served as inspiration. "I'd known about Hugh since middle school; he was famous among those with amputations," he says. "As a kid, I liked tinkering with things, and I kind of saw my body as a canvas, a place where I could explore different boundaries and expand possibilities for myself and others with amputations." In school, Shallal sometimes encountered resistance to his prostheses. "People would say I couldn't do certain things, like running and playing different sports, and I found these barriers frustrating," he says. "I did things in my own way and didn't want people to pity me."
In fact, Shallal felt he could do some things better than his peers. In high school, he used a 3-D printer to make a mobile phone charger case he could plug into his prosthesis. "As a kid, I would wear long pants to hide my legs, but as the technology got cooler, I started wearing shorts," he says. "I got comfortable and liked kind of showing off my legs."
Global impact
December's surgery was the first phase in the bionic limb project. Shallal will be following up with the patient over many months, ensuring that the connections between her limb and implanted sensors function and provide appropriate sensorimotor data for the built-in processor. Research on this and other patients to determine the impact of these limbs on gait and ease of managing slopes, for instance, will form the basis for Shallal's dissertation.
"After graduation, I'd be really interested in translating technology out of the lab, maybe doing a startup related to neural interfacing technology," he says. "I watched Inspector Gadget on television when I was a kid. Making the tool you need at the time you need it to fix problems would be my dream."
Herr will be overseeing Shallal's work, as well as a suite of research efforts propelled by other graduate students, postdocs, and research scientists that together promise to strengthen the technology behind this generation of biomimetic prostheses.
One example: devising an innovative method for measuring muscle length and velocity with tiny implanted magnets. In work published in November 2022, researchers including Herr; project lead Cameron Taylor SM '16, PhD '20, a research associate in the Biomechatronics Group; and Brown University partners demonstrated that this new tool, magnetomicrometry, yields the kind of high-resolution data necessary for even more precise bionic limb control. The Herr lab awaits FDA approval on human implantation of the magnetic beads.
These intertwined initiatives are central to the ambitious mission of the K. Lisa Yang Center for Bionics, established with a $24 million gift from Yang in 2021 to tackle transformative bionic interventions to address an extensive range of human limitations.
Herr is committed to making the broadest possible impact with his technologies. "Shoes and braces hurt, so my group is developing the science of comfort—designing mechanical parts that attach to the body and transfer loads without causing pain." These inventions may prove useful not just to people living with amputation but to patients suffering from arthritis or other diseases affecting muscles, joints, and bones, whether in lower limbs or arms and hands.
The Yang Center aims to make prosthetic and orthotic devices more accessible globally, so Herr's group is ramping up services in Sierra Leone, where civil war left tens of thousands missing limbs after devastating machete attacks. "We're educating clinicians, helping with supply chain infrastructure, introducing novel assistive technology, and developing mobile delivery platforms," he says.
In the end, says Herr, "I want to be in the business of designing not more and more powerful tools but designing new bodies." Herr uses himself as an example: "I walk on two very powerful robots, but they're not linked to my skeleton, or to my brain, so when I walk it feels like I'm on powerful machines that are not me. What I want is such a marriage between human physiology and electromechanics that a person feels at one with the synthetic, designed content of their body." and control, with a far greater range of motion possible."
* Originally published in Spectrum magazine.