May 29, 2020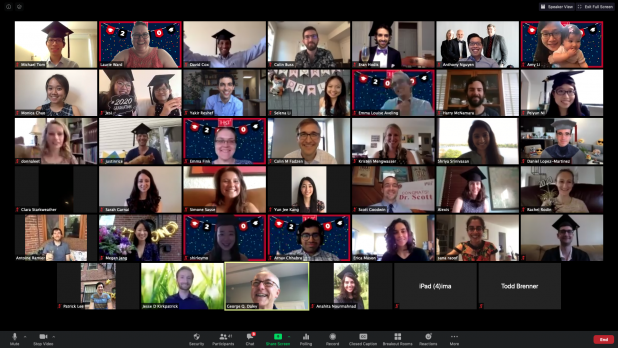 On Wednesday, May 27, the Harvard-MIT Program in Health Sciences and Technology (HST) held its first ever online graduation ceremony and celebration.
By Mindy Blodgett and Megan Lewis
On Wednesday, May 27, the Harvard-MIT Program in Health Sciences and Technology (HST) held its first ever online graduation ceremony and celebration, honoring the 2020 graduates in the virtual mode that has now become familiar during the continuing pandemic. Forty-five students and their families and friends, many far from Cambridge and the MIT and Harvard campuses, began by watching a moving video containing congratulatory remarks from HST Associate Director, Richard N. Mitchell, MD, PhD; Dean of Harvard Medical School (HMS) George Q. Daley, MD, PhD; and Director of the Institute for Medical Engineering and Science (IMES), HST's home at MIT, Elazer Edelman, MD, PhD.
Co-Director of HST, William Goessling, MD, PhD, and Associate Director of HST, Junne Kamihara, MD, PhD, presented the graduates of the Medical Sciences, Doctor of Medicine program; and Co-Director of HST, Emery N. Brown, MD, PhD, presented the graduates of the Medical Engineering and Medical Physics, Doctor of Philosophy program. Following HST tradition, each graduate was individually introduced with details on their accomplishments and future plans.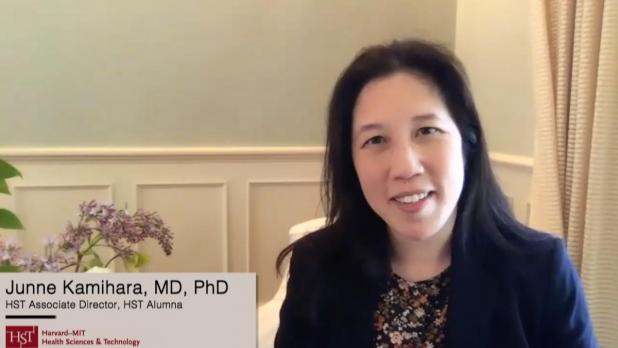 Justin Rice, an HST MD graduate, gave a stirring and funny student address. Rice, who will be starting a residency in emergency medicine at New York University, Grossman School of Medicine, lamented that a trip to Mexico had been cancelled due to the pandemic and revealed that he has been spending quarantine on his in-laws' farm in upstate New York. In a speech that alternated between humorously acknowledging the tribulations of the continuing Covid-19 crisis and reminiscing about the highlights of his time in HST, Rice wove in some inspirational insights into the challenges that clinicians and scientists face today.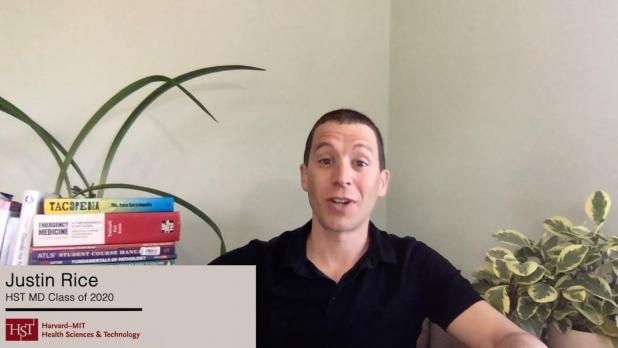 For instance, he commented on the clapping that healthcare workers now hear in hospitals and in city streets, musing: "It's a really special thing, this applause. It's not the laudatory clapping you get for a job well done, like we'll get from our parents today…It's something much less common than that. It's sincere applause acknowledging sacrifice and bravery."
"What's more, this will be applause entirely unearned by us," Rice continued. "Instead, they will be clapping for those who have come before us…Healthcare workers and scientists have always been willing to take great risks." Rice, who ended his video appearance while driving a tractor, said of the HST graduates, "We have a unique background and a unique education that we can contribute to the world."
Mitchell served as emcee, introducing the program and toasting the graduates at the end. He cited the unusual circumstances, pointing out, "This is both a momentous and somewhat surreal celebration. This being the first, and, hopefully only, virtual graduation we will experience in the history of HST."
Daley, an HST alumnus, congratulated the class of 2020 for their many awards and accomplishments, including pandemic-related efforts such as the development of a special Covid-19 curriculum distributed to medical students and clinicians worldwide. "You are unequivocally among the best students of biomedicine and bioengineering in the world," Daley declared, noting that the graduates are now joining "a close-knit community" and that "the world has never needed your skills and your dedication more than today."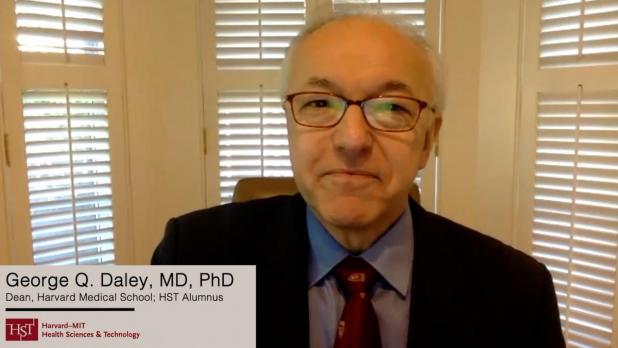 Edelman, also an HST alumnus, focused his remarks on the issue of loneliness, something all experience, but especially the isolation that can be experienced by scholars and scientists as they strive to learn and discover. He referenced Rabbi Dr. Joseph B. Soloveitchik, a noted American Orthodox rabbi and philosopher, adding "the clinical scientist and physician investigator know loneliness better than anyone." Pointing out that "we chose you, and you chose us, because of your intelligence and curiosity…because of your capacity to harness loneliness for creativity and your ability to thrive," he welcomed the graduates as now being "full-fledged members of a community joined years ago."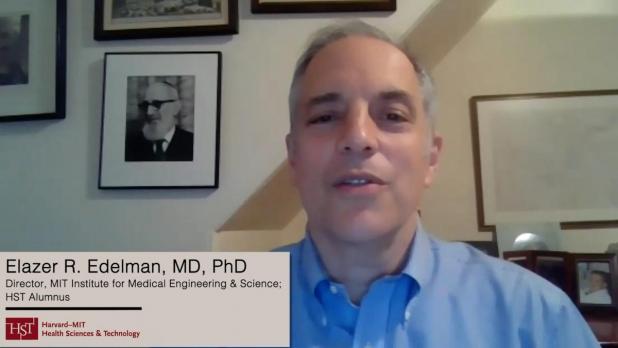 Following the video ceremony, the graduates flocked to 10 different Zoom "party" rooms, hosted by HST faculty and staff, for the interactive portion of the event. Many sported virtual backgrounds that either held special meaning or celebrated the occasion as they hopped from room to room, gathering for Zoom pictures; joking about the circumstances; toasting and congratulating each other; introducing their families and friends to faculty and staff; and discussing after-graduation plans.
HST MD graduates also participated in online Harvard graduation events on Thursday, May 28. Sana Raoof, an HST MD 2020 graduate, was one of two student orators chosen to mark the achievements of the 2020 Harvard graduating class, delivering the Graduate English Address. Being chosen as an orator is considered among the highest honors a Harvard student can achieve. Raoof specialized in radiation oncology while at HST. In June she will begin her internship in medicine at Massachusetts General Hospital (MGH); following that she will do a residency in Radiation Oncology at Memorial Sloan-Kettering in New York. Raoof, the daughter of Indian immigrants, focused her address on her family and what she has learned from them.
Thursday afternoon, Robert "Bobby" Satcher, Jr., a NASA astronaut who received his PhD in chemical engineering from MIT before earning an MD through the HST program, was the HMS Class Day Speaker. Satcher was the first orthopedic surgeon to travel in space and is now an associate professor of orthopedic oncology at the University of Texas MD Anderson Cancer Center and an adjunct professor at the Ken Kennedy Institute of Information Technology. He is also building a cancer center in sub-Saharan Africa.
On Friday, May 29, graduates of the HST Medical Engineering and Medical Physics (MEMP) PhD program received their degrees during the online MIT Commencement ceremony. The commencement address was delivered by William H. McRaven, US Navy Admiral, Retired, and former Chancellor, University of Texas System. The salute to advanced degree recipients was given by Esther Duflo, PhD '99, the Abdul Latif Jameel Professor of Poverty Alleviation and Development Economics, MIT.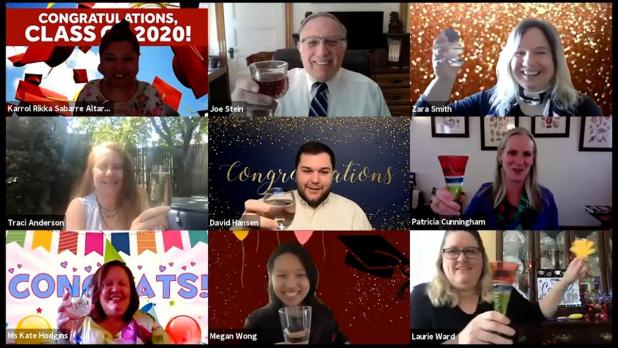 The graduating students were:
Doctor of Medicine; Medical Sciences
Matthew L Baum, BS, MS, MSc, D.Phil, PhD
Todd Brenner, BA
Cum Laude
Ling-Ya Monica Chao, BA, MA
Cum Laude
David Benjamin Turitz Cox, BS, PhD
Colin MacLaine Fadzen, BA, MS, PhD
Emma Fink, BA, PhD
Cum Laude
Sarah Jayne Garnai, BS
Cum Laude
Joseph Scott Goodwin, BS
Cum Laude
Eran Hodis, BA, MS, PhD
Magna Cum Laude
Leon Reznick Memorial Prize
Min Young (Megan) Jang, BA
Magna Cum Laude
Multiculturalism and Diversity Award
Ruth Kagan, BA
Yun Jee Kang, BA
Jesi Kim, BS
Patrick Christopher Lee, BS
Donna Elizabeth Leet, BA
Magna Cum Laude
Seidman Prize for Outstanding HST Senior Medical Student Thesis
Amy Li, BA, PhD
Edward Binghang Li, BA, PhD
Selena Shi-Yao Li, BA
Hollis Albright Award
Malia McAvoy, BS, MS
Cum Laude
Kristen E. Mengwasser, BA, MPhil, PhD
Cum Laude
Shirley Shaoyi Mo, BA
Cum Laude
Andrew Thai Nguyen, BS
Peiyun (Penny) Ni, BA
Cum Laude
Anahita (Anie) Nourmahnad, BS
Coyin Oh, BS
Magna Cum Laude
Alexis Peterson, BS, SM
Sana Raoof, BA, PhD
Yakir Reshef, BA, PhD 
Magna Cum Laude
Justin Rice, BS, PhD   
Rachel Rodin, BS  
Simone Sasse, BA 
Cum Laude
Clara Starkweather, BS, PhD
James Tolbert Shipley Prize
Michael R. Tom, BS  
Matthew Weber, BS  
Doctor of Philosophy in Medical Engineering and Medical Physics
Colin Buss, SB
Ken Chang, BNG, MNG
Arnav Chhabra, SB
Jesse Kirkpatrick, SB
Daniel Lopez-Martinez, MNG, SM
Erica Ellis Mason, SB
Harold Michael McNamara, BA, SM
Antoine Ramier, BNG, SM
Shriya Srinivasan, BNG
Roman Stolyarov, SB
Master of Science Health Sciences and Technology
Davi da Silva, SB