November 20, 2023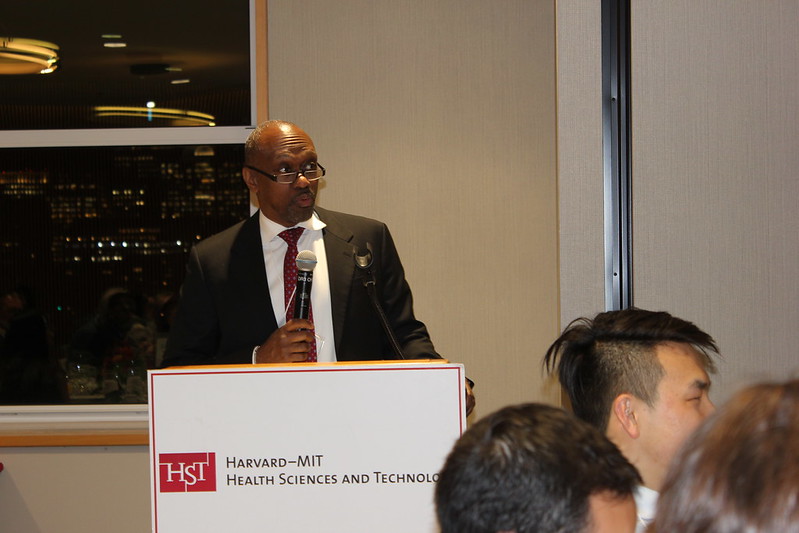 Mindy Blodgett | IMES-HST
The Harvard-MIT Health Sciences and Technology (HST) Fall Dinner took place on Nov. 14 at the MIT Samberg Conference Center.
Some 147 members of the HST community attended this year's dinner, which is sponsored by the J.W. Kieckhefer Lecture in Health Sciences and Technology—the second such gathering to take place following the three-year hiatus to the annual event, due to the Covid-19 pandemic. The featured speaker was Collin M. Stultz, the Nina T. and Robert H. Rubin Professor in Medical Engineering and Science, who is the co-director of HST at MIT, and the associate director of MIT's Institute for Medical Engineering and Science (IMES), which is HST's home at MIT.
At the dinner, Stultz and Wolfram Goessling, the Robert H. Ebert Professor of Medicine, HST, Harvard Medical School, and the co-director of HST at Harvard University, both honored Julie E. Greenberg, who is retiring from her role as director of education and senior lecturer at HST, after more than 19 years in service. They lauded Greenberg's dedication and leadership, and her devotion to advocating for HST and its students. "Throughout the entire history of the HST ecosystem, you cannot find anyone who cares more about HST students than (Julie)," Stultz said.
In introducing Stultz, Goessling recalled that he and Stultz were medical residents together, and that Stultz guided him in learning how to properly place a catheter for cardiac patients. "He is very direct in his feedback…and he cares, and he shows up," Goessling said.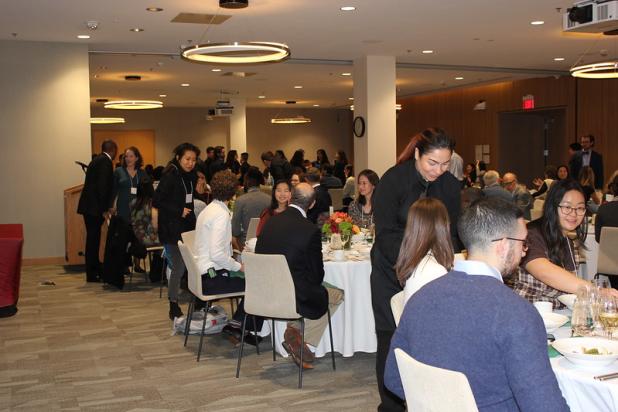 In his talk—which was about artificial intelligence (AI) and its use in battling cardiovascular diseases—Stultz began by saying that he often feels like "I am one of the luckiest people alive" because he not only labors to help people who are ill, but that he can "work with everyone here."
Stultz said that at some point in his career trajectory, he decided to focus on research utilizing machine learning in cardiac medicine—and to evaluate ways that using data and AI can have a beneficial impact on patient treatments.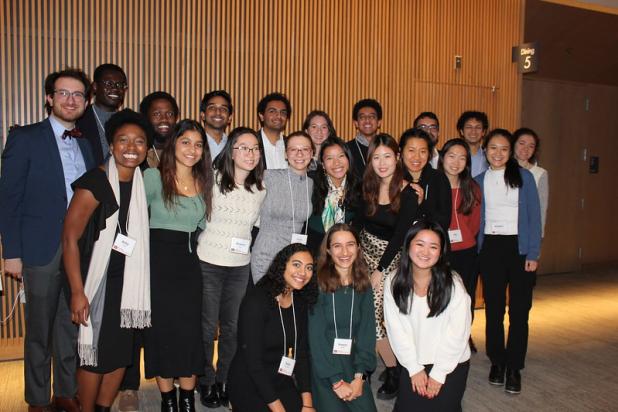 He said that one area that is ripe for research and development is using data monitors to reap information from home care settings that can augment decision making about patient care, diagnostics and treatments. While doctors currently have access to a wealth of information from monitors and devices in hospital settings, Stultz said he sees a lot of potential to using low-level monitors (such as wearable devices like an Apple watch) in a home setting, in order to track functions like hemodynamics, and to transform how cardiac patients are assessed and treated.
The goal of machine learning and deep learning research in cardiovascular medicine is to be able to leverage monitoring tools and applications yielding key data that healthcare providers can use for predictive and diagnostic purposes, and to give better, and earlier, care. Having the ability to identify pressures on a cardiac system earlier, and to be able to deliver preventative therapy, before the need for hospitalization, "is the holy grail," Stultz said.