May 9, 2023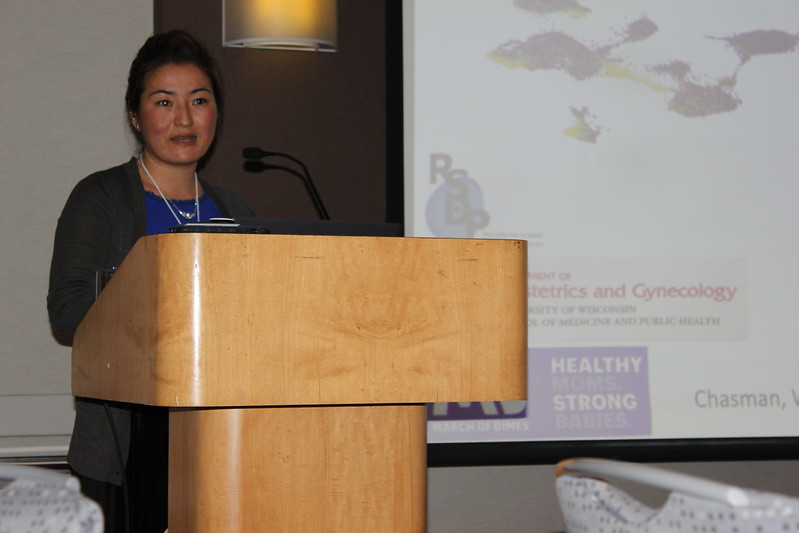 HST students, both current and alum, as well as faculty and staff, gathered to celebrate award recipients and the end of a successful school year
Mindy Blodgett | IMES/HST
The longstanding traditions of the HST Community Awards, and the HST Spring Dinner, were once again celebrated on April 26, 2023, at the Inn at Longwood in Boston.
Some 125 attendees—including current HST students, HST faculty, staff and alumni—gathered to honor the award recipients and to toast the pending end of the school year, enjoying food, drink and award presentations.
A portion of the night was devoted to the yearly practice of HST students conferring annual awards to recognize faculty and other members of the community for exemplary teaching, mentoring, and service. During Covid, the honors were awarded via Zoom. This year, the tradition returned to being part of the in-person annual HST Spring Dinner (also suspended during the Covid pandemic).
The HST Dinner Seminar portion of the evening featured a talk by Ai-Ris Yonekura Collier, MD, a 2011 HST MD graduate. The HST Dinner Seminar series was launched in 1974 with a generous grant from the Kieckhefer Foundation. Past speakers have included Francois Jacob, winner of the Nobel Prize in Medicine and Physiology; Mary Ellen Avery, Thomas Rotch Morgan Professor of Pediatrics; and Susan Hockfield, professor of neuroscience and President Emerita of MIT.
Dr. Collier, currently Assistant Professor in Obstetrics, Gynecology, and Reproductive Biology at Harvard Medical School (HMS), also co-directs the Clinical Trials Unit in the Center for Virology and Vaccine Research and is a member of the faculty in the Division of Maternal Fetal Medicine, both at Beth Israel Deaconess Medical Center. Collier, a physician-scientist specializing in high-risk pregnancy care, said that part of the goal of her talk was to convince listeners to consider careers as reproductive healthcare scientists, "whether in medical school or not". The goal of her translational research is to characterize the maternal cellular immune phenotype in pregnancy disorders like preeclampsia and fetal growth restriction, and in the setting of infectious disease such as Zika virus or SARS-CoV-2.
"I loved immunology…but then I hit the maternity wards and fell in love with reproductive health," Collier said, adding that she is now the mother of three girls. She currently combines her research interests by looking at fetal medicine through the lens of an immunologist, she says, and by working on identifying new therapeutic targets for maternal health.
She described giving birth to her first baby while an HST MD student, and then her second while serving in her medical residency, also contending with the death of a parent. She said that she dislikes the phrase "work-life balance," instead favoring: "work-life integration". She advised HST students and graduates to "lean on your physician-scientist friends" and to "stay in the game, try to be flexible" and to make time to celebrate important things like milestone birthdays (which she says she regularly does with fellow HST alums who have remained dear friends).
The 2023 HST Awards Committee (including HST students: Mingyu Yang, Iris Wu, Keegan Mendez, Diana Grass, Akanksha Tarun, Kirti Nath, Fatima Gunter-Rahman​) organized the awards nomination process. Wolfram Goessling, MD, PhD, co-director of HST, Robert H. Ebert Professor of Medicine, Health Sciences and Technology, HMS, and Chief, Division of Gastroenterology, Massachusetts General Hospital (MGH), was the emcee for the awards part of the evening, introducing each award and their presenters (who were all current HST students) and the recipients.
"In keeping with a tradition that started more than 30 years ago, each year, current HST students identify members of our community to recognize for exceptional teaching, mentoring and service," Goessling said. "Over the years, recipients have noted that these awards are particularly meaningful precisely because the selection process is conducted exclusively by our current students."
Here are the awards and the recipients:
Irving M. London Teaching Award – Faculty: Trudy Van Houten, PhD, Assistant Professor of Anatomy and Neurobiology at Boston University School of Medicine, and Lecturer in Radiology at HMS
Awarded annually to recognize teaching faculty who have made exemplary contributions to the teaching of HST students.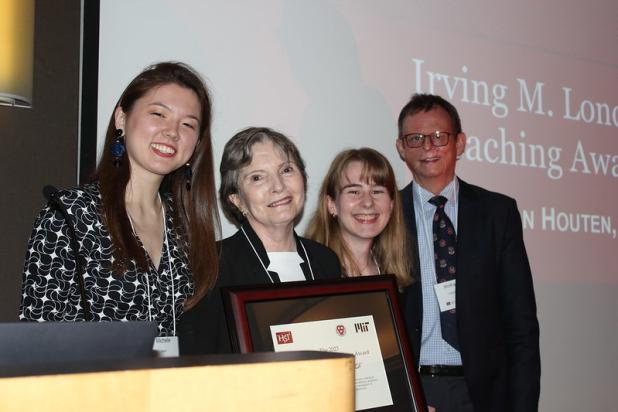 Seidman Prize for MD Research Mentorship: Benjamin Ebert, MD, PhD, George P. Canellos, MD, and Jean S. Canellos Professor of Medicine at HMS, chair of the Department of Medical Oncology at the Dana-Farber Cancer Institute
Established in 1999, this award is presented annually to the person who, through the warmth of their personality, inspires and nurtures HST students in their scientific and personal growth, and through honest advice and generosity to all students and colleagues sets and admirable example of excellence and mentoring.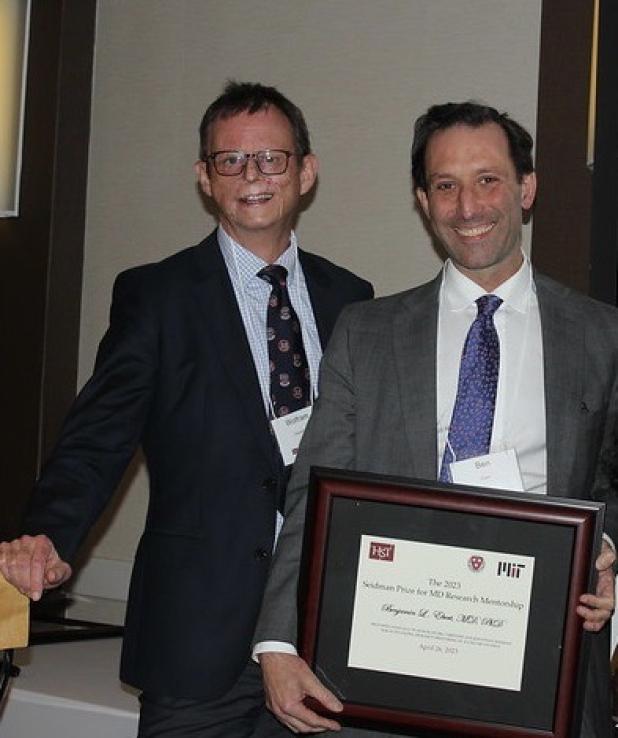 Thomas A. McMahon Mentoring Award: Nathaniel Price, MD, Assistant Professor of Medicine at HMS, and a primary care physician in internal medicine at Mount Auburn Hospital
Given annually to recognize teaching faculty who have made exemplary contribution to the teaching of HST students.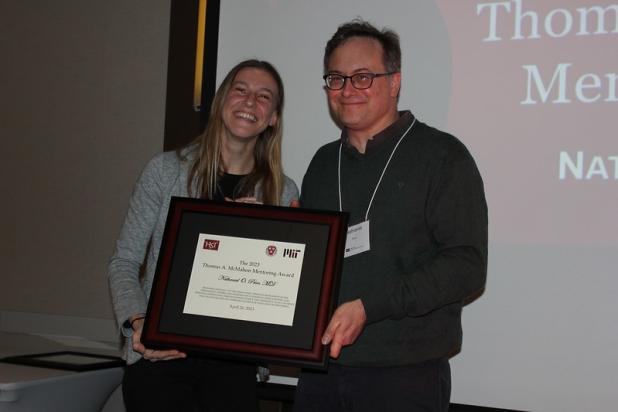 HST Outstanding Teaching Award – Student: Tong Xu, HST MD student, teaching assistant for HST.175: Immunology, for the past three years
Given annually to a current HST student who has made noteworthy contributions to one or more classes in the HST curriculum through remarkable efforts as a teaching assistant.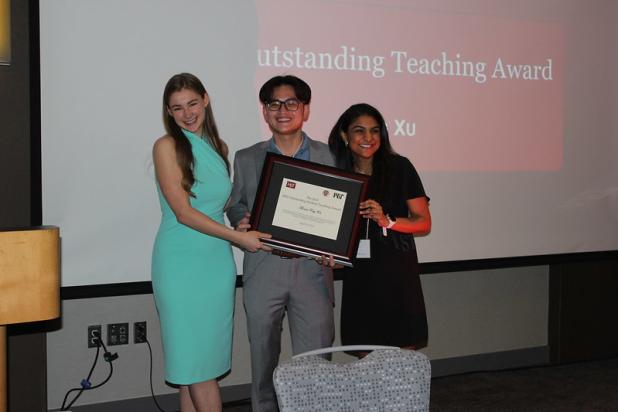 Roger G. Mark Outstanding Service Award (Faculty): Julie Greenberg, PhD, HST's Director of Education, Senior Lecturer at MIT, and an alumna of HST's MEMP PhD program
Presented annually to a staff or faculty member whose excellence in action and deed embodies HST community values and ideals.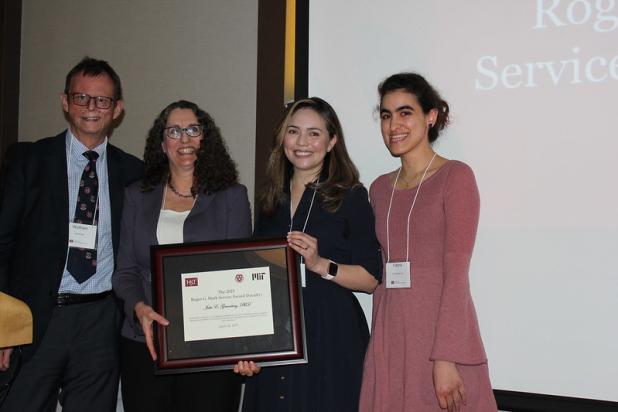 Roger G. Mark Outstanding Service Award (Student): Iris Wu, HST MD student
Presented annually to a member of the student body whose excellence in action and deed embodies HST community values and ideals.
In addition to the HST student awards, there were two HST Director's Awards, which are bestowed periodically on members of the faculty at the discretion of the HST directors, in order to recognize significant, meritorious service to HST. These awards where:
Salil Garg, MD, PhD, Assistant Professor at the Yale School of Medicine (he is also a 2012 graduate of the HST MD program). He was honored for his six years of excellence in service and dedication to HST as the co-director of the course HST.160: Genetics in Modern Medicine.
Sebastien Haneuse, PhD, Professor and Director of Graduate Studies in the Department of Biostatistics at Harvard's T.H. Chan School of Public Health. He was honored for his outstanding service and dedication during six years as director of the course HST.190: Introduction to Biostatistics.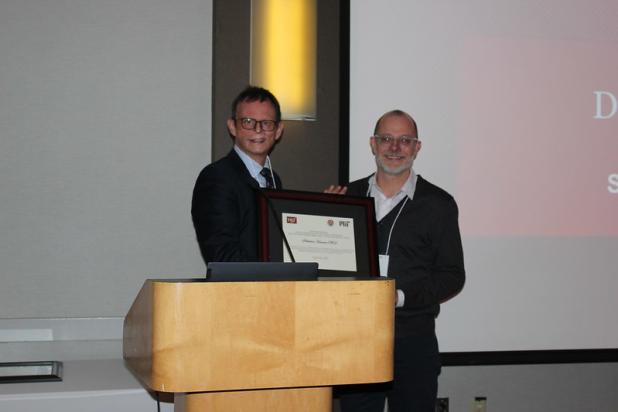 Finally, there was a new award:
IMES (inaugural) Prince Innovation Prize: Connor Verheyen, HST MEMP PhD student. Connor has filed a provisional patent titled "Viscoelastic Gel Microparticle Formulations and Medical Applications" (which describes the technology necessary to support a novel approach to rapid, on-demand construction of customized medical implants that perfectly match the size and shape of each patient's unique anatomy).
HST alumnus Dr. Martin Prince, recently established similar innovation prizes at both Harvard and MIT. Last month, the Harvard-based prize was awarded to Bryce Starr at the HMS Soma Weiss Day.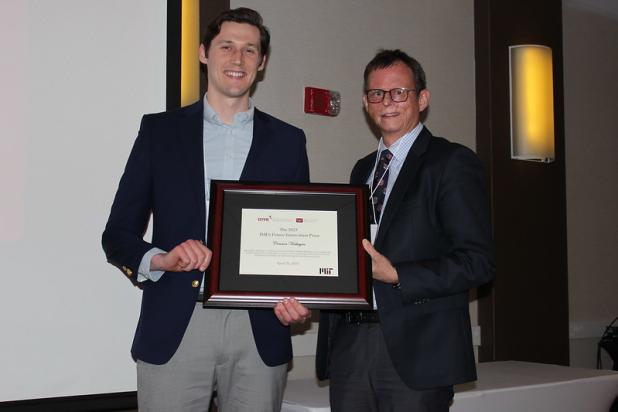 More information about the HST student awards can be found here.