November 10, 2020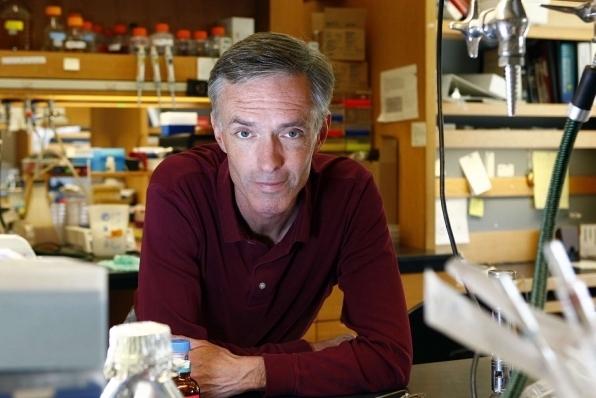 The prize is given annually to an American biomedical researcher who has made significant, progressive contributions to medicine.
Megan Lewis | HST
James Collins, the Termeer Professor of Medical Engineering and Science at the MIT Institute for Medical Engineering and Science (IMES) and the Department of Biological Engineering, and an HST faculty member, has received the 2020 Dickson Prize in Medicine, a prestigious award given annually to an American biomedical researcher who has made noteworthy contributions to research in a medical discipline.
"I'm honored­­—it's marvelous to see the work of our lab being recognized with this award," says Collins, whose lab at MIT is focused on synthetic biology and systems biology. "We're pleased that we are being recognized for our contributions to synthetic biology, and for our efforts in the field which have led to new therapeutics and new diagnostics."
Collins is also faculty co-lead of Jameel Clinic, faculty lead of the MIT-Takeda Program, and a member of the Harvard-MIT Program in Health Sciences and Technology (HST) faculty. In addition, he is a core founding faculty member of the Wyss Institute for Biologically Inspired Engineering at Harvard University and an Institute member of the Broad Institute of MIT and Harvard.
"Jim's contributions and advances in the biomedical space have been remarkable," says Anantha P. Chandrakasan, dean of the MIT School of Engineering and the Vannevar Bush Professor of Electrical Engineering and Computer Science. "His lab has made fundamental discoveries pertaining to the detection and treatment of infectious diseases, and coupled engineering and biology to build innovative systems that improve the human condition."
Elazer Edelman, director of IMES, an HST faculty member and the Edward J. Poitras Professor in Medical Engineering and Science, says, "Jim greatly deserves this honor, as his formidable research will undoubtedly lead to breakthroughs in the field of synthetic biology and to progress in the important fight against disease." IMES is HST's home at MIT.
The Dickson Prize, which is the University of Pittsburgh School of Medicine's highest honor, is for researchers who are at especially productive points in their careers, and whose investigations are seen as influential and deserving of major recognition. It is known to presage other major accolades. According to a Duke University write-up about the prize, since 1970–71, when the prize was first awarded, 14 Dickson winners have won Nobel Prizes, and 22 recipients of the Dickson prize have received the Lasker Award, the most prestigious American honor for medical research.
Collins pointed out that collaboration is important to advances in synthetic biology, calling it "a maturing field that's bringing together engineers and biologists to use engineering principles to model, design, and build synthetic gene circuits and other molecular constructs. (We will then) use these circuits and constructs to rewire or reprogram living cells and endowing them with novel functions."
Along with using synthetic biology techniques, Collins and his lab members are currently utilizing deep learning technologies in order to develop diagnostics, therapeutics, and vaccines to address the current pandemic.
"We aim to expand our efforts in these directions to other infectious diseases, as well as complex non-infectious diseases," says Collins. "I think deep learning and synthetic biology will become two of the defining technologies of this century."
Winners of the Dickson prize receive a medal, a $50,000 honorarium, and at some point, they visit University of Pittsburgh in order to accept the award and to present a keynote lecture during its showcase on scientific research.