July 28, 2022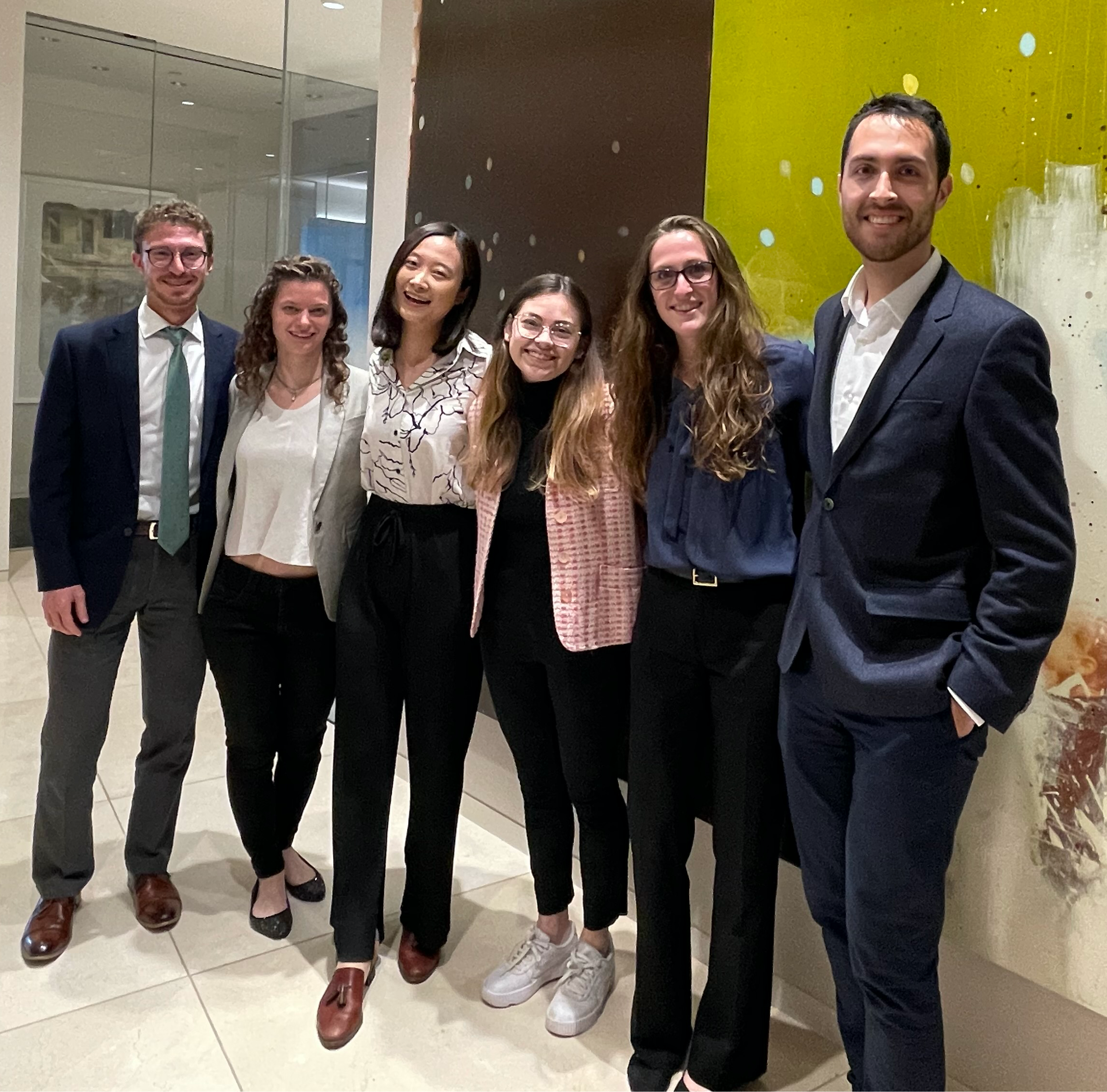 HST MEMP PhD students attended the AIMBE's Public Policy Institute for Rising Leaders, held in the spring, which gave participants a deeper understanding of how public policy shapes biomedical engineering
Mindy Blodgett | HST-IMES
HST students who participated in the spring session of the Public Policy Institute for Rising Leaders, sponsored by the American Institute for Medical and Biological Engineering (AIMBE), say they came away with a better sense of the important connections between science and legislation.
Five HST Medical Engineering and Medical Physics (MEMP) PhD students—Lily Wang, Alexi Tchir, Jon Sanz, Kim Lamberti and Sydney Sherman—attended the two-day public policy workshop for undergraduate and graduate students, in Washington, DC. The goal of the workshop, according to AIMBE, is to provide undergraduate and graduate students "with a comprehensive overview of the public policy landscape shaping science, innovation, and discovery." Featuring sessions with experts and thought leaders on the ramifications of proposed regulatory and policy initiatives—the program aims to leave participants with a deeper knowledge of the various stakeholders who have an impact on public health in Washington and across the country.
Sending these students to the AIMBE workshop is part of a new MIT Institute for Medical Engineering and Science (IMES) initiative to support HST MEMP PhD students seeking professional development experiences that are not directly related to their thesis research. This opportunity is available thanks to the generosity of donors to the Richard J. Thomas Fund. 
The speakers included White House Office of Science and Technology Policy's Carrie Wolinetz, PhD, Deputy Director for Health & Life Science, who kicked off the event with a keynote; and Adrienne Hallett, the National Institute of Health's (NIH) Director for the Office for Legislative Policy & Analysis who led a discussion on ARPA-H, the newly authorized agency that is dedicated to novel pathways catalyzing transformative health breakthroughs. Experts from the Federal Drug Administration (FDA), the biomedical engineering industry, and representatives from various think-tanks, presented on careers in science policy for researchers.  
Wang says that the two-day meeting "significantly broadened my horizons" about the many opportunities available in science policy making.
"We learned from the professionals coming from not only government departments but non-profit organizations," Wang says. She adds that the presentations were useful because "they introduced their roles in policy making, especially for science, from the perspective of the whole organization to the personal level."
Lamberti says that the event was "a great opportunity to supplement the scientific, technical, and clinical training that we get in HST."
"There is often a disconnect between scientists and legislators, and through this conference, we were able to explore how public policies shape medical and biological engineering, understand how current federal health policy initiatives shape research and funding decisions, and gain insight into potential careers related to medical engineering and public policy in the federal government," Lamberti says.
Wang reports that she was particularly impressed by the following talks:
Ed Margerrison, the director of the the Office of Science and Engineering (OSEL), at the Center for Devices and Radiological Health (CDRH) of the FDA. Wang says, "He showed us the general structure of FDA and further introduced the works conducted by OSEL via providing some practical examples. I was amazed how many efforts OSEL has made to develop standardized methodologies with the aim of allowing companies to focus on product development and thus facilitating the upstream innovations in device and technology."
Erin Heath, the director of Federal Relations at the American Association for the Advancement of Science, who spoke about the differences in the ways that policy makers and scientists approach problems. Wang says she was particularly interested in recommendations on ways to engage in science advocacy or science policy.
Dorianne Mason, the director of Health Equity at the National Women's Law Center (NWLC), who shared some of the current challenges in achieving health equity, and who elucidated the many causes of inequity. Wang says that she learned from Mason that "health inequity can only be solved when we connect the dots, which means people from different fields, departments and professions need to work together to improve this situation."
Lamberti says that the students who attended enjoyed networking with scientists in the medical and biological engineering fields. And she says she was grateful for the "support and encouragement" of HST, and her research advisor, Elazer Edelman, the Edward J. Poitras Professor in Medical Engineering and Science, MIT, and the Director of IMES, which is HST's home at MIT. "Opportunities such as this…can have a profound impact on our career choices and our impact as scientists," Lamberti says.
"I felt so grateful to participate in this community and to learn how people work together to make things better," Wang says. "I strongly recommend that any HST students who are interested in learning science policy, who would like to know of the job opportunities other than in academia and industry, or who are excited to connect the dots" should consider attending the workshop.
The next AIMBE Public Policy Institute workshop will be held October 24-25, 2022.