December 9, 2016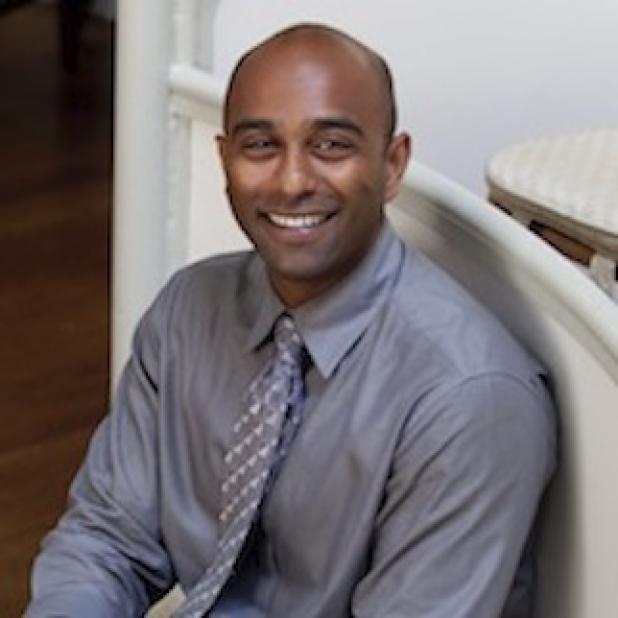 Creativity with Care
Towards the end of Biju Parekkadan's tenure in HST's Medical Engineering and Medical Physics (MEMP) PhD program, he received a wake-up call. He had traveled to India to observe medical practices and the healthcare system as a whole. During the visit, he presented his latest research about using cell therapy to reverse acute liver injury.
A local doctor asked, "When can I use this?"
Parekkadan had no answer. "I realized there was more I could do to advance this technology. I was leaving a lot on the table."
He returned from India with a new perspective on his career. Instead of following his PhD with an MD, he decided to focus his creativity and bioengineering know-how to turn research discoveries into practical solutions for patients.
Parekkadan, now assistant professor of surgery at Massachusetts General Hospital (MGH), had invented a novel approach to cell therapy, the use of cells as drugs. Instead of injecting the cells into the body, he moved the therapy into a bioreactor outside of the body. By routing the patient's blood through the bioreactor, the therapeutic cells could still have their positive influence, but remain contained. "Instead of bringing the cells to the bloodstream and losing them, we bring the blood to the cells," says Parekkadan.
To bring his idea closer to patients, Parekkadan founded Sentien Biotechnologies. After an assessment of the needs of patients, he decided to apply the technology first to acute kidney injury, a disease that affects 2.5 million people worldwide each year and is fatal in over half of those severe cases. A patient's blood flows through a bioreactor containing therapeutic mesenchymal stem cells, cells manufactured from human bone marrow. These cells respond to the blood and send out chemical cues that regulate the immune system and promote tissue regeneration to enhance the natural repair of the damaged kidney.
The company is progressing, with tests in humans slated to begin within a year. The same cell therapy approach can be extended to other extracorporeal treatments for liver, lung, and heart disease, and more. "The experience has helped me grow as an investigator," says Parekkadan. "Industry has influenced my academic problem seeking and solving, and my academic experience helped me spark the right scientific questions in industry."
Meanwhile, Parekkadan spends most of his time in his lab at the MGH Center for Engineering in Medicine, a group with deep bioengineering expertise and the commitment to apply it to solve pressing medical challenges. Parekkadan's current projects have all passed his personal screening test. "If I can see a feasible, practical path to solving a big problem and changing healthcare behavior, then I start to think about the project more deeply," he says.
One such recent project involves using 3D printing to build realistic models of cancer. The cells all start off the same, but when they are grown in geometric patterns, they take on different biological features. For instance, cells on the border behave differently than those in the middle. The spatial arrangements also change the way cells respond to drugs. "We're trying to make a sophisticated, yet simple, platform that industry can adopt to evaluate drug candidates and study a new mechanism of action," he says.
Parekkadan is also still working on cellular therapy, and is currently advancing new genetically engineered cells. One challenge is tracking the cells after they are injected, so he is genetically engineering secreted probes that trace where the cells are in the body and monitor their activity. "We want to take the knowledge in pharmacology about putting chemicals, proteins and antibodies into the body and understanding what they do and apply it to cell therapy," he says.
Ever creative, Parekkadan also has a book in the works. His writing project — a science fiction graphic novel— falls distinctly outside of his laboratory and industry work, though its theme is directly tied to his field. He, and a team that includes a co-writer, illustrators, composers and more, have created a world that has been transformed by medical and technological advancements. He expects the book, entitled "Sumeria: Decoding a Species," the first in a trilogy, to debut in print in 2015 along with a custom-designed app for download.