November 16, 2021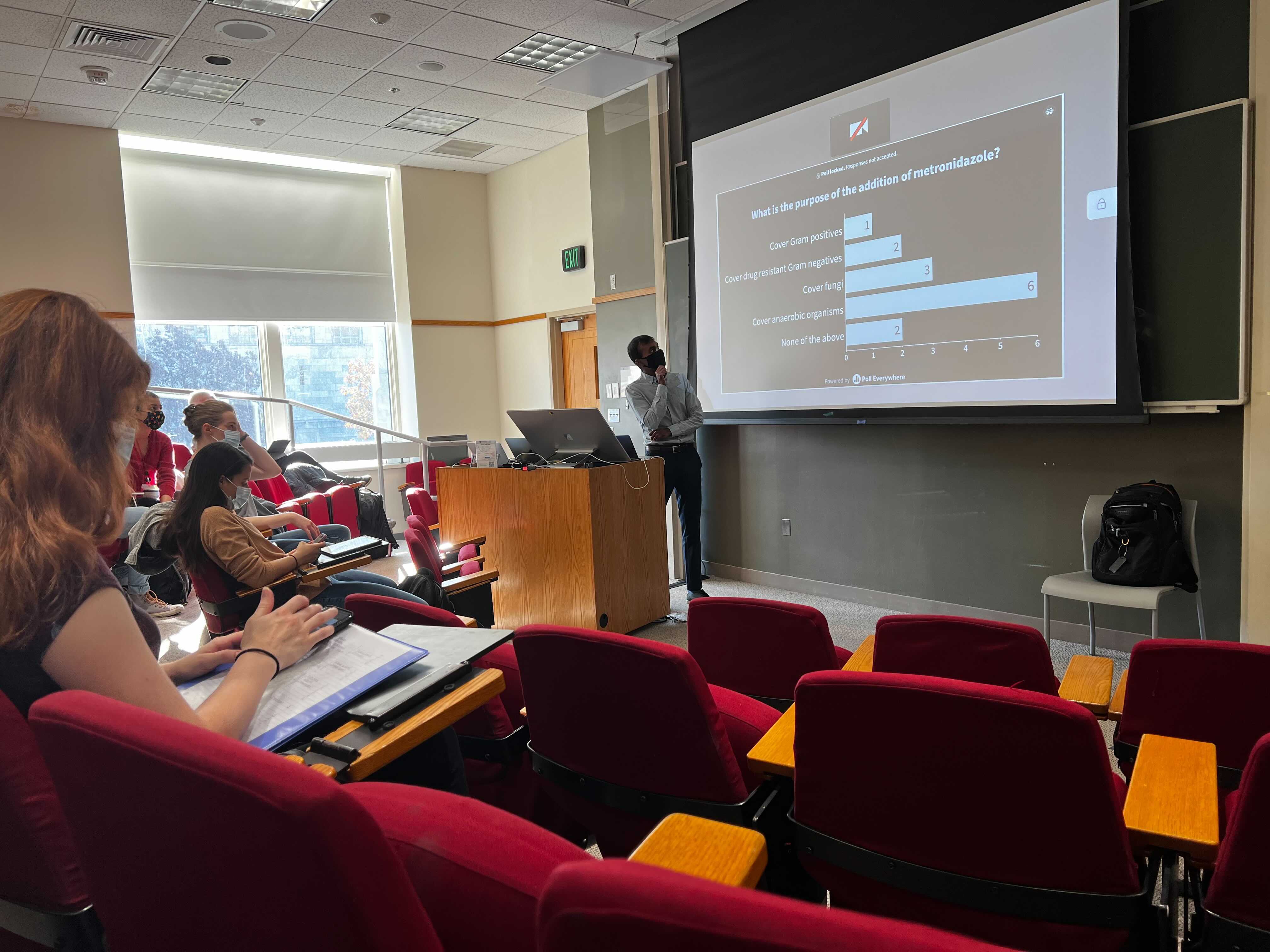 Covid-19 has been a reminder of the need to better understand infectious diseases, and the oversized impact on historically marginalized communities.
Mindy Blodgett | HST/IMES
The ongoing COVID-19 pandemic has been a stark reminder of the global impact of infectious diseases, and the grave necessity for medical science to better understand how to detect, treat and prevent them. This need for clarity in addressing the pandemic's effects, especially on marginalized communities, has led to a rethinking of the approach of one of the core classes in the Harvard-MIT Health and Sciences Technology (HST) preclinical curriculum—HST.040: Mechanisms of Microbial Pathogenesis—which has taken on new urgency and meaning.
It is therefore a good time, as the world enters another fall and winter deep in the midst of the pandemic, for HST.040 to be entering a new phase in its approach and focus. The two instructors who have taught for many years have passed the baton to new teachers—including an HST MD graduate—and the focus of the class is undergoing an evolution of sorts. While still providing detailed information on the mechanisms of infectious diseases, it will place added emphasis on issues impacting historically marginalized communities, expand the types of research it discusses and introduce clinical cases early on to cement concepts of pathophysiology.
The overall aim of the class is to teach the mechanisms that drive pathogenesis from bacterial, fungal, and viral infections that operate at the molecular, host and population level. Clyde S. Crumpacker, II, MD Professor, Medicine, Beth Israel Deaconess Medical Center and Harvard Medical School, who directed the class from 1993 until 2020, and Harvey B. Simon, MD, Associate Professor, Medicine, Massachusetts General Hospital and Harvard Medical School, who became the associate director in 1986, have stepped down as lead instructors. Taking over are Sanjat Kanjilal, MD, MPH Instructor in Population Medicine, HST MD 2010, and Kristen M. Hysell, MD, MPH, Instructor in Medicine. Kanjilal and Hysell are both practicing infectious diseases clinicians at the Brigham & Women's Hospital (BWH) and Massachusetts General Hospital, respectively. Kanjilal is also an Associate Director of the Clinical Microbiology Laboratory at the BWH.
Kanjilal says that the class will retain its approach of closely examining the mechanisms of microbial pathogenesis, while also increasingly building a new emphasis on the social and cultural variables that have an impact on disease and the public health response. It will also emphasize case-based discussions and expand the types of research discussed.
"We'll be looking at things like AI (artificial intelligence) technologies that are on the cutting edge of research," Kanjilal says. The class will also elevate the awareness of diversity in the patient populations discussed, in recognition of the makeup of those who are often most affected by infectious diseases. One way to do this, Kanjilal says, will be to expand the pool of guest lecturers, including many from a wide variety of backgrounds in order to better represent this diversity.
"We're excited to be bringing in some relatively young clinicians, who are also very accomplished, to lecture," Kanjilal says. "And it's very important that many of our lecturers better represent the backgrounds of many of the populations we discuss…and the fact that many infections are defined by health disparities among those from different backgrounds."
The reset will not happen all at once, according to Kanjilal, but will evolve over time. And he says he is also planning to add in more practical discussions about real-world clinical decision-making, that lead to treatments that are both safe and cost-effective. For instance, "Approaches to clinical decision-making that reduce bias, appreciate population level impact and optimize timing and selection of tests is rarely discussed in medical school," Kanjilal says. "We are seeking to introduce these concepts at a deeper level than has been traditionally taught, in addition to approaches for handling decision-making under uncertainty. We illustrate these challenging topics through actual cases drawn from the collective clinical experiences of the faculty."
The changes in the class will build upon the evolution of the class through the years, under the steady leadership of Crumpacker and Simon, who have both been recipients of the Irving M. London Teaching Award. Simon, who graduated from Harvard Medical School in 1967, says he has been involved with HST since the early days of the HST program, which was founded in 1970.
"I think it was right around 1973 that I was asked to give some lectures by the first director of the HST microbiology course at Harvard Medical School," Simon says. "I was absolutely terrified, as it was my first time lecturing medical students. I wrote out every word I planned to say on index cards…but the room the class was in was so dark, I couldn't read a word of it, which was what saved me…I ended up thinking it was a lot of fun."
He lectured in HST until 1978, then switched to another HMS course, eventually returning to t HST.040 in 1986 under a previous director. He has co-taught with Crumpacker, who took over as director in 1993. Of his involvement with the course, he says, "I've loved every minute of it." During his time teaching, he says the teaching technology has gone from using carousel projectors to videos and now to Zoom. And he reflects on the changes in student demographics (increasingly, more gender and ethnic diversity) and in their career interests.
"Back in the early 2000s, they all wanted to become corporate CEOs and develop new drugs—now there is great interest in really understanding molecular biology and pushing the frontiers of research further," he says. He adds that increased interest in the social determinants of illness has accelerated during Covid, and that he sees the need for medical education to spend more time on looking at human behavior.
Crumpacker said that when he took over the directorship of the course, "I wasn't looking to do it—I had a busy lab (conducting HIV research at Beth Israel)…but they convinced me how special these students are—and it's been a remarkable journey."
"One of the challenges we have always faced is combining basic science with clinically relevant science," he says. When Covid hit, and they had to scramble to put the course completely online, Crumpacker says that he and Simon worked to recruit lecturers who could speak to the dawning pandemic, including an infectious disease specialist from Moderna (the developer of one of the successful Covid vaccines). After the last year, he says there is an imperative to increasingly focus on health and racial disparities in the class curriculum. "The students really want to be a part of that change, which is inspiring," Crumpacker says, adding that at the end of last year, "one of the best student comments we received was from one student who said that 'the HST.040 course is the best course to teach me about the inequities of healthcare.' That was wonderful feedback."
Kanjilal, Crumpacker, and Simon all tout one of the benefits of the class, which is limited to 30 students, as being its relatively small size, making for a cohesive group that can function like a large seminar. Sessions involve two-way discussions, questions and heavy interactions between faculty and students. Crumpacker and Simon say they will return as guest lecturers from time to time.
And in the coming months and years, Kanjilal says he plans to emphasize discussions of the importance of science communications, to highlight writing and the development of study guides, as a way for the students to help each other better grasp the material, and to build content that could aid others. They will even explore communicating through Twitter and other forms of social media.
The aim is for HST.040 to evolve in a manner analogous to the way many of the organisms discussed in the class evolve, which is slowly but steadily. Kanjilal says this will reflect the changing needs of society and medicine, a task that he calls, "very exciting. I'm looking forward to working with the faculty and the students to fine-tune the goals" of a class that is still an important part of the HST curriculum, all these years after the founding of HST.