April 6, 2022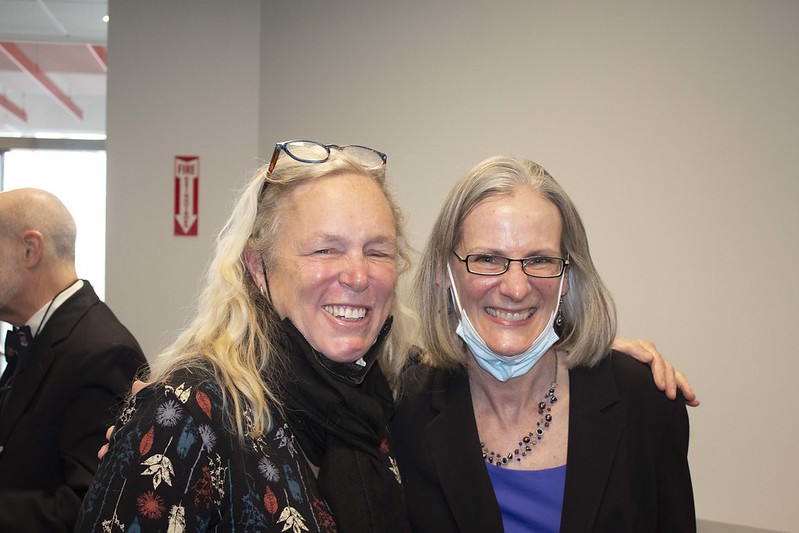 Colleagues lauded the HST Academic Program Manager for her 41 years working on behalf of the program, students
Mindy Blodgett | HST/IMES
Patricia "Patty" Cunningham, who retired recently, was honored with a celebration of her 41 years with the Harvard-MIT Program in Health Sciences and Technology (HST). Joining while a junior in college, she began as an accountant and office assistant, her role steadily growing, until she ended her career as the HST Academic Program Manager, overseeing the day-to-day operations of the HST office at Harvard Medical School (HMS).
The retirement celebration was a hybrid event (with more than 100 people on Zoom), and featured in-person and remote tributes by several speakers, including:
All mentioned Cunningham's notable kindness, and how her office at HMS was always a place of refuge for students and colleagues, where all were welcome to stop by and to perhaps enjoy the snacks she always kept in stock. Daley said that she epitomized "all that was warm and memorable about HST."
Gray, who, as a former director of HST, worked closely with Cunningham, pointed out that she was well known for her remarkable ability to remember people, including every one of the more than 1,000 HST students she knew through the years: "It's a super power of hers."
Mitchell remembered that she had "more often than not saved me from my own worst instincts."
"She has been the heart and soul (of HST) for more than 40 years," Mitchell said. "She's had all our collective backs."
Kamihara presented Cunningham with a framed drawing of HMS and MIT, and with a handmade glass bowl, created in the MIT Glass Lab, incorporating the school colors of Harvard and MIT.
During her last week on the job, alumni, colleagues, students, and faculty, filled an online "kudos board" with memories of, and thanks for, Cunningham. For her part, Cunningham said she felt "overwhelmed" by the tribute. And that she was grateful that what began as a way to work her way through college, led to more than four decades of mentoring and shepherding exceptional and talented students, and being "blessed with terrific colleagues."