May 1, 2023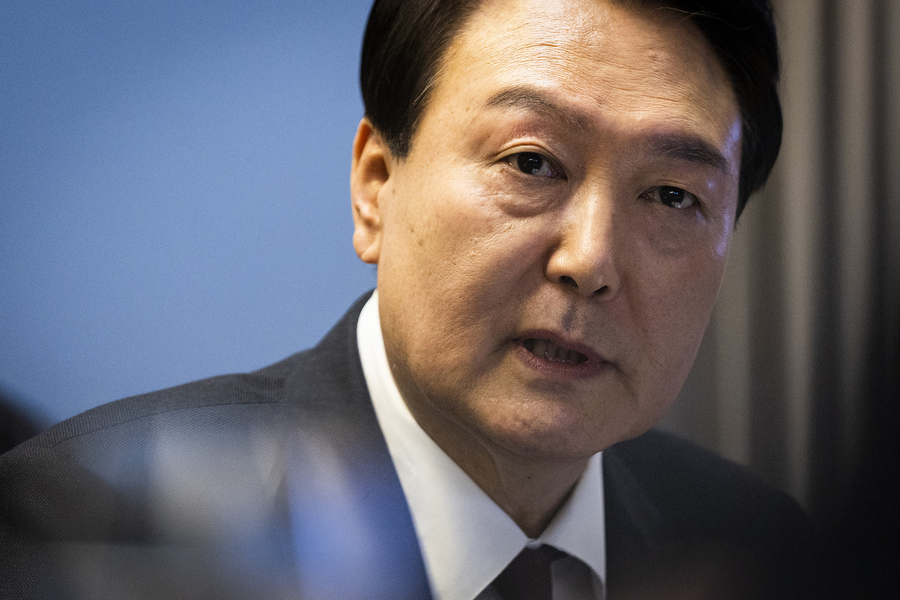 A campus summit, including HST and IMES faculty members, with the leader and his delegation centered around dialogue on biotechnology and innovation ecosystems.
Peter Dizikes | MIT News Office
President Yoon Suk Yeol of South Korea visited MIT on Friday, participating in a roundtable discussion with Institute leaders and faculty about biomedical research and discussing the fundamentals of technology-driven innovation clusters. 
South Korea, Yoon noted in his remarks, has highly regarded educational institutions, hospitals, and research facilities, along with robust legal and business systems. However, he added, the country still aims to develop the kind of biomedical innovation cluster exemplified by the Kendall Square area in Cambridge, Massachusetts, where a confluence of established and startup firms, academic research, and agile investment capital has created a world center of bioscience work. 
"We need [clusters] to make the whole greater than the sum of the parts," Yoon said during the event, held in the MIT.nano building. 
Yoon's visit included a look at the Cryo-Electron Microscopy Facility in MIT.nano, which enables nearly atom-level evaluation of the structures of molecules and numerous other organic materials. It also featured presentations from MIT faculty, with a follow-up discussion among the participants. 
"I hope the Republic of Korea can benchmark what you are doing," Yoon told the MIT participants, in remarks translated to the audience. "I know that won't happen overnight."
Yoon made the visit in the midst of a six-day state visit to the U.S., which included a formal White House state dinner this week hosted by U.S. President Joe Biden. The trip was aimed at further strengthening what is now a 70-year alliance between the two countries, with both security and economic topics on the agenda.
The visit to MIT was hosted by Richard Lester, associate provost for international activities and the Japan Steel Industry Professor of Nuclear Science and Engineering, and Anantha Chandrakasan, dean of the MIT School of Engineering and the Vannevar Bush Professor of Electrical Engineering and Computer Science. Thomas Schwartz, the Boris Magasanik Professor of Biology at MIT, initiated the visit by showing Yoon the microscopy facility. Yoon then proceeded to the roundtable discussion, which was moderated by Chandrakasan.
Lester welcomed Yoon to MIT, saying it was a "great honor" to have him at the Institute. 
For his part, Yoon offered remarks to formally start the discussion, noting among other things that "boosting investments in science and technology" on an ongoing basis was "extremely important" to his government. 
Six MIT professors spoke to Yoon about different aspects of biotechnology and enhancing innovation. Robert Langer, the David H. Koch Institute Professor, outlined the model of research-driven biotech startups he has helped create in recent decades. The group of about 40 firms Langer has helped found includes Moderna, the high-profile Covid-19 vaccine developer. Such ventures have had global impact, while changing the local cityscape around MIT. Langer is a faculty member at the Harvard-MIT Program in Health Sciences and Technology (HST), and is also an affiliate faculty member at the MIT Institute for Medical Engineering and Science (IMES). IMES is HST's home at MIT.
"It's been remarkable to see the area around MIT transform," Langer said, while suggesting that South Korean work in the field was clearly on the rise. "There is a lot of interest in biotechnology companies in [South] Korea," Langer also noted. 
Dina Katabi, the Thuan and Nicole Pham Professor at MIT, explained how AI could be used to better diagnose some serious illnesses, including Parkinson's, by using new tools to assess brain activity and its relationship to the potential for disease formation. "We can innovate in medicine, once you have such data," she said. 
In some cases, new biotech tools are being deployed against familiar contagions. James Collins, the Termeer Professor of Medical Engineering and Science, an HST faculty member, and a core faculty member at IMES, discussed how he and colleagues are using AI tools to develop new medicines that could be used against increasingly antibiotic-resistant bacterial illnesses. Without new advances, Collins said, such illnesses could kill 10 million people a year by 2050. 
"We're using AI models not only to discover but to design new antibiotics," Collins said. "We think collaboration across nation-states, as well as universities worldwide, is really going to be needed to address this crisis."
In response to prepared questions from the South Korea delegation, MIT faculty also talked about an array of topics pertaining to research and development and innovation.
Collin Stultz, the Nina T. and Robert H. Rubin Professor in Electrical Engineering and Computer Science as well as co-director of HST, and associate director of IMES, talked about developing talent in the biomedical field.
"Cultivating innovation in this space requires educating scholars who not only have technical expertise but have a real understanding of the biological and biomedical questions that are the most pressing," Stultz said, noting that HST students work in hospital settings. "A hallmark of the HST program is not only to get specialized training in particular fundamental engineering or science disciplines … but also [to go] very deep into our actions with the medical community."
Kwanghun Chung, an associate professor in the Department of Chemical Engineering, an HST faculty member, and core faculty member of IMES, an investigator in The Picower Institute for Learning and Memory, and a faculty member in Brain and Cognitive Sciences, was asked to talk about the different components making up a successful innovation ecosystem. He noted that the process was analogous to seeding many things in nature, in order to create extensive growth. His remarks drew a response from Yoon, who added, "I realize such a forest doesn't happen overnight." 
Giovanni Traverso, the Karl Van Tassel Career Development Professor, showed Yoon models of small drug-delivery systems he and his colleagues have developed, demonstrating, for instance, how such devices attach to their targets properly.
In addition to Yoon, the participants from South Korea included Lee Jong Ho, minister of science and ICT; Choi Sang Mok, senior secretary to the president for economic affairs; Songyee Yoon PhD '00, a member of the MIT Corporation and president and chief strategy officer of NCSOFT, a Korean gaming company; and Kim Young Tae, Seoul National University Hospital president and CEO.
Lee, who at the start of his career was a postdoc at MIT's Microsystems Technology Laboratory, called the MIT visit a "very meaningful opportunity" to discuss trends and strategies, in a statement released by the South Korean government after the event. 
Yoon was elected as president in March of 2022. He grew up in Seoul, graduated from Seoul National University after studying law, and has had a lengthy career as a prosecutor. Yoon served as the country's prosecutor general from 2019 to 2021. 
* Originally published in MIT News.