May 12, 2022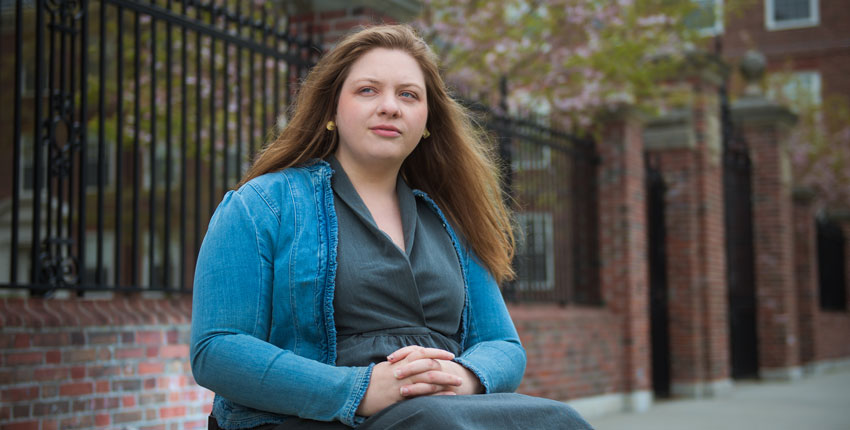 HST/HMS grad Jennifer Cloutier has a habit of pushing limits
Christine Paul | Harvard Medical School
When Jennifer Cloutier receives her MD from Harvard Medical School in May, it will be 12 years since she won a Canadian national waterskiing championship.
Although that feat alone is impressive, it's even more extraordinary because the competition was designed for individuals with disabilities, and because of her lower-body paralysis, Cloutier, now 30, performed tricky slalom turns and acrobatics from a special seat bolted to her skis.
But then, pushing limits has been Cloutier's signature style.
"In the 20-second period allowed for trick skiing, if you fall off the seat, your performance is over," she said. "So, my goal was to always perform the hardest trick I could do without falling."
Skiing triumphs were just the beginning of many of Cloutier's achievements, demonstrating her refusal to be deterred by the spinal-cord injury she experienced at age 6 in a car accident, which also left her younger brother paralyzed.
Pushing limits
Cloutier was encouraged by her parents not to let her injury impede her future ambitions, and during the six months she was initially hospitalized after the accident, she gained firsthand appreciation of the marvels of rehabilitative medicine, which she says helped inspire her to become a doctor.
But childhood came first. At age 10, the Ottawa, Ontario, native also embraced alpine skiing, becoming a ski instructor during high school.
Then, turning to watersports, she competed internationally and became a volunteer administrator for SkiAbility Ottawa, a waterskiing organization for people with chronic illnesses and disabilities.
Winning medal after medal, Cloutier's athletic successes and volunteer work with disabled people culminated in her being selected in 2011 to Canada's Top 20 Under 20, a prestigious list published by Youth in Motion.
At the time, Cloutier was already at Harvard College, graduating with a bachelor's in human developmental and regenerative biology in 2013, and serving as president of Women in Science at Harvard-Radcliffe from 2011 to 2013.
She says her early traumatic injury was pivotal in defining her research goal—to understand how tissues regenerate after they are damaged. HMS and the Massachusetts Institute of Technology (MIT) have given her a unique opportunity to pursue this goal.
Enrolled in the joint Harvard-MIT Program in Health Sciences and Technology (HST) progam, which immerses students in rigorous interdisciplinary studies on both campuses, Cloutier will receive an MD in 2022 from HMS, complementing the PhD in biology she received from MIT in 2020.
Compressed into overlapping years, HST students on the MD track receive training to become physician-scientists. In addition to classroom studies on the HMS campus and clinical rotations at HMS-affiliated hospitals, they spend long hours in HMS or MIT laboratories, working with leading scientists on critical questions.
"As a physician-scientist, I am very interested in how organs and tissues re-form in adult organisms that are attempting to regenerate from injury," Cloutier said.
She has studied the regenerative ability of a tiny planarian, or flatworm, named Schmidtea mediterranea.
For two centuries, this freshwater planarian has been a model organism for studying development and regeneration, because of its distinct anatomical features—eyes, gut, brain, central nervous system, and more—and its capacity to regenerate any missing body region, even the whole body, from minuscule body parts.
Working in the lab of Peter Reddien, professor and associate head of the MIT Department of Biology, Cloutier's research has focused on planarian signaling pathways that recruit stem cells for regenerating tissues.
"Our research team is seeking to identify the genes and signals involved in initiating regeneration," Cloutier said. "We are converging on a promising regulator that is expressed within hours of injury in the planarian wound epidermis. Such a discovery would offer key insights to the cellular signals that drive regeneration and could potentially lead someday to therapeutic strategies for better repair after injury," she said.
Precursor cells
While at Harvard College, she worked as an undergraduate in the labs of Konrad Hochedlinger, HMS professor of genetics at Massachusetts General Hospital, and Guillermo Garcia-Cardeña, HMS associate professor of pathology at Brigham and Women's Hospital, again focusing on questions of cell fate.
Before beginning her research at MIT, Cloutier gained experience as a doctoral student in the laboratory of HMS Dean George Q. Daley, well known for his research on hematopoietic stem cells, precursor cells in the blood and bone marrow that give rise to mature blood cells which are often used in therapies designed to replace or rebuild a patient's hematopoietic system.
Then, in 2018, something besides regenerative biology caught her eye. Crossing the MIT campus one day, Cloutier noticed a group of mechanical engineering students designing their capstone project—a wheelchair with an adjustable seat that could be raised 12 inches.
Recognizing the potential benefit of this device for physicians with disabilities when they are performing patient procedures and physical exams, she provided valuable feedback to the group of 20 students.
Feeling at home
On-campus mobility was essential to her studies, and Cloutier credits Harvard for striving to make its facilities accessible. One of her favorite aspects of Harvard life was living as an undergrad at Quincy House in Cambridge, where she later returned during her time as an HST student to serve as resident tutor and mentor.
"Harvard's house system is incredible and unique," she said. "It feels like home."
Even after Cloutier graduates from HMS, she's not planning on going far. Her residency assignment is at Mass General, an HMS affiliate, where she'll train in internal medicine.
Again, her primary interest is tissue regeneration, particularly the liver, which has the greatest regenerative capacity of any organ in the body. But if the liver is injured beyond its ability to regenerate itself, a transplant is often called for.
"During my principal clinical experience at HMS, I realized how much liver disease affects a patient," Cloutier said, which led to more questions. "With the current shortage of livers available for transplant, is there a way to prolong the liver's regeneration capacity and extend the bridge to transplant?"
Harkening back to the accident that changed her life, Cloutier's also concerned about people who cope daily with chronic illnesses and pain, like her father, whose leg injury from that car accident that injured her still causes him significant discomfort.
"As physicians, we can't fix all problems," she said. "But we can focus on what matters to our patients and try to improve their quality of life."
With her future before  her, Cloutier is reminded of the powerful life lesson she learned at an early age.
"One day you may wake up, and things might be quite different," she said. "But you still can do really cool things."
* Story originally published in Harvard Medical School News.