June 26, 2017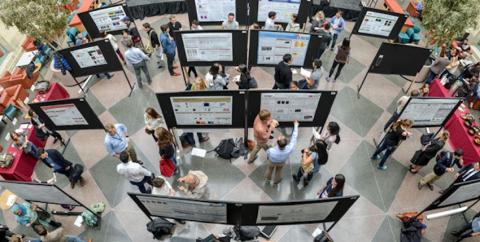 After working for a year on developing assays for an HIV research project in the laboratory of her mentor, Douglas Kwon, HMS assistant professor of medicine at Massachusetts General Hospital, the clinical samples on which the pair had planned to carry out the experiments turned out to be unusable.
But Anahtar pushed on after what she felt was a failure.
With Kwon's enthusiasm and support for a new study, Anahtar's Ph.D. project, which explored how conditions in the vaginal microbiome contribute to how women acquire HIV, "turned out great after all," she said.
Anahtar was one of the dozens of students presenting their work at the Harvard-MIT Health Sciences and Technology Forum at Harvard Medical School in April.
The mentor-student relationship is a special feature of the HST curriculum, as is the biomedical research component. All HST students pursue independent research under the direction of a faculty member. The annual HST Forum gives students the opportunity to present their work and findings.
Thirty posters were presented in the TMEC Atrium, showcasing student research that took place in the labs of HMS investigators on the HMS Quad, at MIT and at several HMS-affiliated hospitals and institutions.