May 4, 2023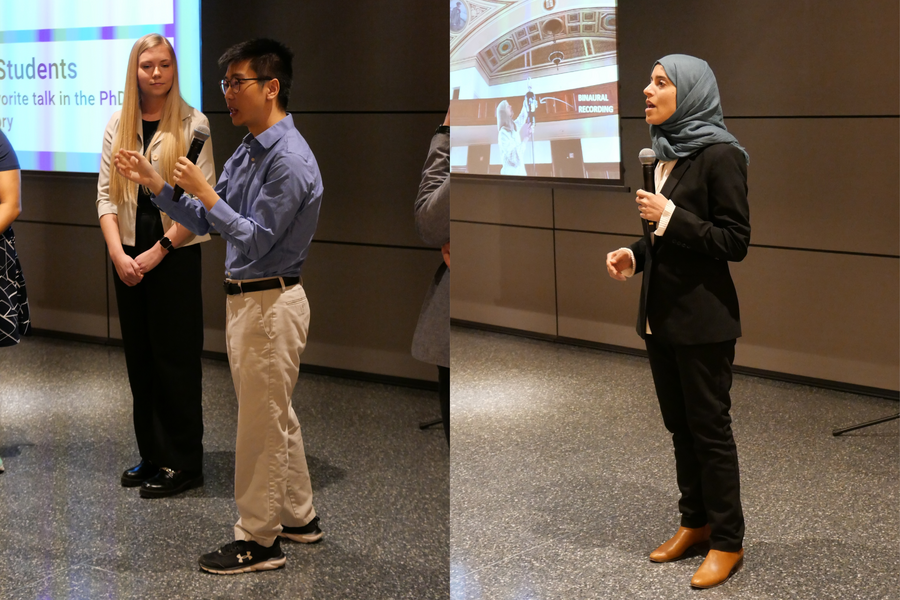 The 2023 competition featured three-minute talks, including from an HST student, on cutting-edge research from across MIT in an engaging, live competition.
MIT Career Advising and Professional Development
An 80,000 word PhD thesis would take many hours to present. MIT Research Slam competitors get three minutes.
The finalists of the 2023 MIT Research Slam competition met head-to-head on April 19 at a live, in-person showcase event. Four PhD candidates and five postdoc finalists competed for the judges' and audience's vote. The contestants put their skills to the test as they took on the challenge of communicating why their research matters to a live audience in only 180 seconds. This follows the format of the 3-Minute Thesis research communication competition embraced by over 200 universities around the world. Aside from the thrill of competition, these events provide opportunities for trainees to develop and showcase their research communication skills. 
During the weeks leading up to the event, participants joined training workshops on pitch content and delivery, and had the opportunity to work one-on-one with educators from the Writing and Communication Center, English Language Studies, Career Advising and Professional Development, and the Engineering Communication Labs, all of which co-sponsored and co-produced the event.
The event was masterfully emceed by Deanna Montgomery, Communication Lab manager at the Department of Electrical Engineering and Computer Science (EECS). "The MIT Research Slam is a wonderful celebration of both research and communication," she says. "I was honored to serve as the emcee of the first in-person Research Slam Showcase and have the opportunity to share the stage with this group of talented researchers and creative communicators.​"
Eric Grunwald, director of English language studies and part of the Research Slam planning team, reflects: "The Research Slam is a wonderful opportunity for any research trainee who is looking for more training in academic communication. I think it is also particularly useful for second-language PhD students and postdocs who want to think through how to best present their work to a diverse English-speaking audience. Telling the story of their research in a way that is interesting, understandable, and important, all in three minutes — and getting feedback and revising and revising — is an invaluable practice. Some competitors report that they've gone on to use their Research Slam pitch and slide in successful job talks. So it's really a no-lose proposition for second-language students."
A panel of accomplished judges gave feedback after each of the talks: Bruce Birren, director of the Genomic Center for Infectious Diseases, Institute Scientist; Suzanne Lane, director of the Writing, Rhetoric, and Professional Communication (WRAP) program; and Brittany Trang, STAT News and Science Reporting Fellow with the Knight Science Journalism Program at MIT. 
"It was great to learn about so much interesting research from such accomplished speakers," Trang says. "The participants really made me think about what makes a good presentation and made it hard to choose winners."
At the end of the night, Eric Wang, an HST Medical Engineering and Medical Physics (MEMP) PhD student, was the judges' choice in the PhD category, and Neha Bokil was the runner-up. Bokil also won the hearts of the viewers and walked away with the Audience Choice Award. 
In the postdoc class, Dirk Lauinger took the top honor, and Alaa Algargoosh took both second place and the Audience Choice Award. After the competition, Dirk reflected: "I really enjoyed the Research Slam. It was fun to meet other people and learn about their research. I had met Chris Rabe, another finalist, a couple months back at another event and was interested in learning more about his research. We buddied up to train for the slam together and this was a nice opportunity to get to know each other better. Thanks to the preparatory sessions, I learned about the Writing and Communications Center (WCC) at MIT. What a great discovery. It was a lot of fun to bounce ideas off the WCC staff. Training for the slam also helped me take a step back and see the bigger picture of my research, which was very helpful for a fellowship application I wrote last month." 
The first-place finishers received a $600 cash prize, while the runners-up and audience choice winners each received $300. 
Last year's winner in the PhD category, Leonard Broussard, will represent MIT at the Ivy+ level of the 3MT competition.
A full list of slam finalists and the titles of their talks is below.
  PhD students:
Neha Bokil, Department of Biology, "Why Our Sex Chromosomes Matter"
Bradley Turner, Management: Economic Sociology, "The Storytelling Entrepreneur Has No Clothes: Risks and Rewards of Narrative Pitching"
Eric Wang, (The Institute for Medical Engineering and Science is HST's home at MIT), "A vaccine that works against any COVID variant"
Sadie Zacharek, Department of Brain and Cognitive Sciences, "Neuromarkers of Social Anxiety Disorder"
​​      Postdocs: 
Alaa Algargoosh, Media Lab, "Aural Affect: The impact of acoustic environments on emotions, experience and well-being"
Hanna de Jong, Department of Biology, "Reading the sugar alphabet"
Dirk Lauinger, MIT Sloan School of Management, "Vehicle-to-Grid: Mobile energy storage from electric vehicles"
Chris Rabe, Environmental Solutions Initiative, "Understanding Environmental Justice Exclusion in Higher Education"
Sharmelee Selvaraji, Bioelectronics Group, Research Laboratory of Electronics, "'Gut feelings' of Parkinson's disease"

Research Slam organizers included Diana Chien, director of MIT School of Engineering Communication Lab; Simona Rosu, senior assistant director of postdoctoral career and professional development at MIT Career Advising and Professional Development (CAPD); Elena Kallestinova, director of MIT Writing and Communication Center; Alexis Boyer, assistant director of graduate career services with CAPD; and Amanda Cornwall, associate director of graduate student professional development with CAPD. Deanna Montgomery, Communication Lab manager at MIT EECS was the emcee. Prizes were sponsored by MIT Career Advising and Professional Development.
* Originally published in MIT News.