April 23, 2019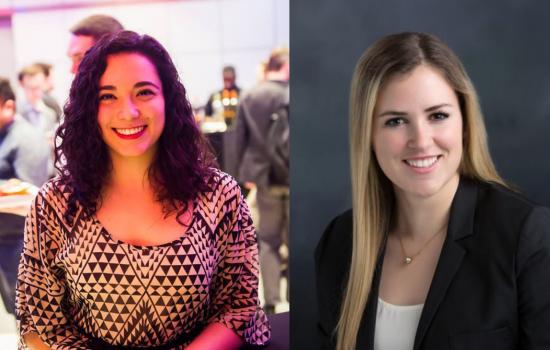 Claudia Elena Varela and Elise Chantal Wilcox, both students in HST's MEMP Ph.D. program, have been chosen as 2019 MIT Graduate Women of Excellence. Selected among 200 nominees for their first-rate leadership and service contributions to the MIT community, Varela and Wilcox will be honored at the Office of Graduate Education's biennial celebration on April 29. There, they will present posters outlining their achievements to date and what they hope to accomplish in the years ahead.
Varela is a member of the Therapeutic Technology Design and Development Group led by Professor Ellen Roche, which specializes in creating assistive devices for failing organs. "I'm working to develop devices that can deliver multiple types of therapy to the heart to improve outcomes after a heart attack and better understand the disease," Varela states in her poster.
Outside of her academic work, Varela is an HST Student Diversity Ambassador, supporting activities that foster tolerance and increased representation at HST and throughout MIT. She participates in Clubes de Ciencia México, helping to expand access to science education in the neighboring country. Outside of MIT, Varela is a Company Member of Danza Orgànica, a Boston-based social-justice-oriented dance theater company.
Wilcox, in her academic work, is a member of the Harvard-MIT Biomedical Engineering Center, led by Professor and IMES Director Elazer Edelman. "I study transplant tolerance. Basically, why do some organ transplants do well while others are rejected?" Wilcox says. "Specifically, I study lung transplantation, which is one of the only treatments for end-stage lung disease, though only 50% of lung transplants last more than five years."
Wilcox's research focus is on lung transplantation and the use of cell-seeded scaffolds to alter the immune system's response to transplanted cells and tissues. Her leadership credentials include serving as the Program Director of GapSummit 2019, a student-run biotechnology leadership conference to be held in June at the Broad Institute, and in her first two years at MIT, acting as Assistant Coach for the school's Varsity Women's Soccer team. She has completed six half marathons, one full marathon, and a Tough Mudder competition, among other races.
"After graduate school, I hope to work in research in the biotech industry, trying to solve some of the challenges associated with cell-based therapies," Wilcox says. "I also want to be a mentor to the women looking to become scientists or take on leadership roles."
Varela looks to pursue a career in academia and, in the process, advance those routinely underrepresented in STEM. She has this advice for younger graduate students in the health sciences: "Remind yourself that you belong. Listen to what you need and what is important to you. Be proactive and go get what you came for."
"Build a support network and be honest about challenges you're facing," recommends Wilcox, adding that obstacles often pose valuable opportunities for growth. "Asking for help isn't a sign of weakness but instead shows your insight into a problem….I greatly value the HST community and the support I've received from my classmates and professors. "
For more information and to learn about past MIT Graduate Women of Excellence honorees, click here.