May 5, 2021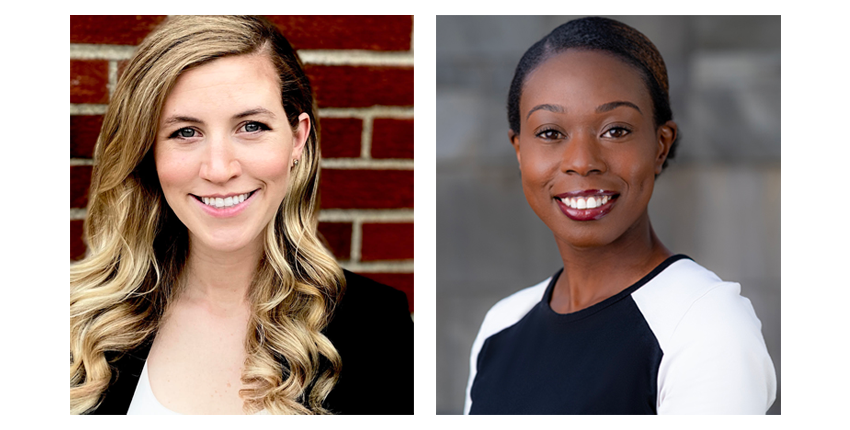 Pandemic prompts remote interviews with hospitals for grads, including an HST MD graduate.
Bobbie Collins | Harvard Medical School
For Annie Cathcart, a graduating HST MD student, applying for her residency in OB/GYN this year could have been very challenging. Cathcart, who is also receiving a PhD in biophysics from Harvard, gave birth last September and traveling for interviews would have been difficult, especially having to decide whether to bring her infant son with her or leave him at home.
But because of the COVID-19 pandemic, she didn't have to.
For medical students across the country graduating this spring, the pandemic has added yet another twist to their academic experience: The vast majority of the residency interviews that will place them in hospitals for their next phase of training and education were conducted virtually over the fall and winter. And for Cathcart, that wasn't necessarily a bad thing.
"It felt more fair," she said.
To support public health efforts in fighting the coronavirus pandemic, and to ensure fairness to applicants, the Association of American Medical Colleges and the National Residence Matching Program this year strongly encouraged  that all residency interviews be held online. 
Although virtual interviews had their drawbacks, Anthony D'Amico, advisory dean of the William Augustus Hinton Society, said many HMS students experienced unexpected advantages with the remote 2021 residency application process.
Though the numbers have not yet been officially compiled and reported, D'Amico said his understanding from faculty at HMS and other medical schools is that despite limits on in-person visits, there appeared to be an increase in residency interview offers for many medical students this year, including those at HMS.
"The increased exposure and opportunities for many HMS students, without any additional costs, was a silver lining for those who would have to take out additional loans for travel," said D'Amico.
"I think that you're given a little bit more in loan funds for the purpose of interviews," said Titi Afolabi, a graduating HMS MD student who receives financial assistance. "But based on my experiences with financial aid, I don't think that would have covered it all."
"There are any number of reasons why it could be harder for some applicants to travel than others—family reasons, financial reasons, or health reasons," Cathcart said. "It's so nice that all of us kind of got an equal opportunity to see programs across the country."
Afolabi and Cathcart applied to programs on both coasts. Recalling her travels when interviewing for medical school, Afolabi said she did not miss the fatigue that can come with traveling to multiple cities in different time zones. Interviewing remotely, she felt freer to apply to programs on the West Coast.
"I got the opportunity to see a lot of other places I might not have applied to," said Afolabi, who is applying for residency in internal medicine. However, she added, remote interviews "made it hard [for other hospitals] to compete with home institutions, where [MD students] had already spent time in the hospital."
Making connections
To replicate the in-person interview process this year, hospital residency programs were encouraged to provide virtual campus tours, introductory and educational sessions, and informal online sessions in addition to formal interviews.
"We created a lot more materials—synchronous and asynchronous, such as videos to help applicants," said Christopher Smith, director of the Internal Medicine Training Program at Beth Israel Deaconess Medical Center. His program interviewed more applicants this year than in previous years, he added.
Both Afolabi and Cathcart agree that the most important factor in choosing a residency is connecting with each program's faculty and staff and feeling welcomed into the community.
To help applicants make those connections, many residency programs hosted social hours where applicants could interact informally with residents, faculty, and other hospital staff.
Smith said it was a challenge to communicate the program's culture and values virtually, adding that he "personally missed the opportunity to meet applicants in person to get to know them and see how they interact with house staff."
The informal social hour sessions with residents probably weren't as effective as they would have been in person, Afolabi said, because having to wait your turn to speak and unmute yourself is not as natural as pulling someone aside for a casual conversation.
"So that was difficult, but every program seemed great, and the actual interview days were pretty similar to each other," she said.
Cathcart said that some of the meet-and-greet sessions she attended had one-on-one breakout rooms and she was able to connect with some residents on follow-up phone calls.
"They were really sensitive to the challenges of getting a flavor of a program over the internet," she said.
D'Amico is the executive committee chair of the Harvard Radiation Oncology Residency Program, which interviewed 32 applicants this year compared to 30 in past years. He said he was pleasantly surprised at how he was able to connect with and get to know applicants personally during the virtual interviews.
At first, he and his colleagues wondered how effectively they would be able to get to know the interviewees through remote interviews, but in the end he thought the on-screen calls eliminated distractions. Faculty were able to focus much more intently on the applicants and, in a small field like radiation oncology, they were able to lay the foundation for an enduring mentorship relationship irrespective of where the applicant matched, he added.
Finding space
Finding a dedicated space to interview was a challenge for both Afolabi and  Cathcart, but they had peers who helped them find a space that was private and quiet.
"It wasn't really going to be possible to Zoom from my house because my baby wasn't at an age where he was napping on any sort of schedule yet," said  Cathcart.
In one of her interviews the Wi-Fi went out. "It becomes a real-time 'How do you solve problems' kind of test, but all worked out okay," she said.
Afolabi noted that some residency programs explicitly stated that problems or distractions in the background would not be held against candidates.
"I really, really appreciated those programs, even though it didn't really affect me personally, because I had a nice office space thanks to my friends," she said.
Looking to the future
Both residency directors and medical students have said that perhaps future residency application seasons could use a hybrid virtual and in-person model. But Smith added that thought will have to be given to logistics and implications.
"I think we have to be careful with a hybrid model as it may be prone to cause disparities and might take away the advantages of the system that was created this year," said Smith.
Afolabi would like to see the benefits and drawbacks of this year's experience analyzed and thoughtful decisions made about what can be incorporated into or removed from the residency interview process for future candidates.
"I hope that people are intentional and really reflective of how this process has affected everyone involved and think about how we can continue to make this process more equitable," Afolabi said.
* Originally published here.